News from Tatton Investment Management: Markets not reflecting public fear
8 July 2022, 12:00am
The murder of past Japanese Prime Minister Abe is a reminder of how much we should value our public servants and politicians. We should be grateful to all our politicians that they are prepared to do a job we need so much. Whether they are exercising high office or merely representing us, they are invested with great expectation, much responsibility but little immediate power to meet those expectations. Few of them are self-serving, but all are at risk because they must be prepared to disagree publicly with other people in our society. Here, we remember Jo Cox and David Amess.

The sad news from Japan adds to turbulent political news both in the UK and internationally. However, against this background markets were benign. In the UK, it felt like market moves were linked to ructions in the Cabinet. However, in reality, sterling fared better through the week than the euro. The chart below shows various currencies' change in value against the US dollar since last Friday (1 July):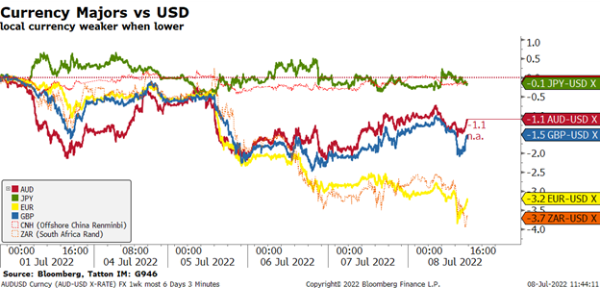 There is no doubt the outlook for the UK economy remains difficult and we write more about this in an article below. The situation limits the upside for domestically-focused companies making up much of the mid-caps in the FTSE250. Meanwhile, the FTSE100 index held up reasonably well, although the materials sector came under pressure along with the fall in industrial metals.

Fears for Europe continue to worsen, driven by the current awful situation surrounding European energy prices. Last week, we pointed out how Europe's gas and electricity prices had surged, especially for contracts covering this coming winter. This week, the price situation has got worse.

This has led to both French and German governments stepping in to save energy distributors. The German energy distributor-generator Uniper will be rescued with a government package, probably of around €8-9 billion. The rescue will potentially involve the German government taking an equity stake but also lending the company most of the proceeds (in the same manner as happened for Lufthansa during the pandemic – the government got its equity stake at a discount to the market price at the time).

Perhaps of even greater importance are the travails of electricity generator Electricite de France (EDF). Only 16% of the company was privately owned, but now the French government has decided it will be fully nationalised (again). This will stabilise EDF's enormous debt and allow the government to control the prices charged to French customers, which had threatened to bankrupt many local manufacturers and other energy-dependent businesses.

It may not solve the problem in terms of generating enough electricity. Russia is constraining gas supplies, but France's problems revolve around the lack of rainfall in the Alps and poor maintenance over many years. The drought has brought river levels to very low levels and those rivers are used as the cooling water supply for EDF's old nuclear reactors. Output is the lowest in 30 years: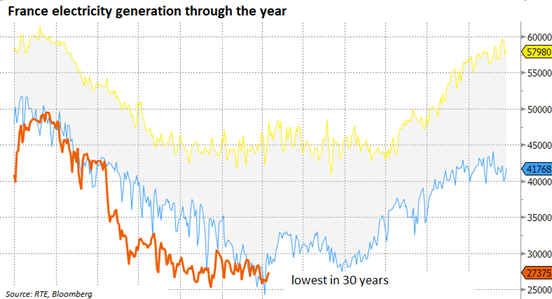 Elsewhere, Bloomberg reported on 2 July that "Italy is set to spend almost 40 billion euros subsidising energy bills for consumers, while the UK put down some £37 billion to ease the impact on consumers. The nationalisation of Bulb alone will cost consumers about £2.2 billion".

For markets however, the issue is whether businesses, especially manufacturers will be immunised. Most are currently forced to pay market rates. As we mentioned last week, manufacturers average energy proportion of overall costs in 2019 was about 12%. This winter, electricity will be around four times that price. So, even if consumers are not hit directly by electricity price rises, they will face further inflation in goods. Businesses will almost certainly see sales volumes declines. That would mean a Europe-wide recession, an outcome clearly being priced now by markets.

However, there is some good news coming from markets. The fall in bond yields (both fixed and 'real') is not surprising given the context, but provides some respite. More surprising perhaps is that general credit spreads are finishing the week broadly unchanged after spiking higher midweek. They're still signalling a recession, but the government actions are giving hope that a pandemic-like response for businesses is in the offing. Meanwhile, the declines in industrial metal and agricultural commodity prices are alleviating some inflationary concerns.

Risk assets in the US are stabilising as well following the sharp downswing in longer-dated bond yields. While the move came about because of growth concerns, it also seems that a number of investors have bought back into bonds after being considerably underweight for a long period. Credit spreads also came down quite sharply, about 0.1% in yield falls for investment-grade credits.

Finally, China is stepping up its fiscal push into the autumn with about $220 billion of new credit being raised by local governments. The swing-round in growth in China following the lockdowns has been as strong as could possibly been expected, and is set to go further. At this rate China may well reach the 5.5% yearly growth target for 2022 despite running at a near 10% annualised decline for the second quarter.

Market sentiment will depend greatly on the outturn for Europe. The Nord Stream pipeline annual maintenance shutdown finishes on 21 July and investors will be hoping Gazprom will resume a full supply after the unscheduled reductions that began in June. However, this week, French and German government willingness to step in to bail out the energy companies and protect consumers and businesses has certainly helped. As long as investors (and perhaps the European Central Bank) are willing to fund the increase in debt, Europe may be able to see this through without devastating economic damage.