News from Tatton Investment Management: Market noise is almost deafening
9 May 2022, 12:00am
The last week of April was like being on a roller coaster. We had rather hoped that the ride was almost over, but in fact it's only been getting wilder.

For the past five weeks, the asset markets have been displaying greater volatility. These charts area way of demonstrating the phenomena we term asset market "noise and loudness." We have taken the daily changes of the US equity and bond market indices (the S&P 500 and the Bloomberg Barclays US Aggregate index which includes corporate bonds), and then sought to standardize each. This puts both markets on an equal risk basis. We have then looked at the combination to get an idea of the total market volatility. The daily changes observed are shown in blue and look very similar to a sound wave.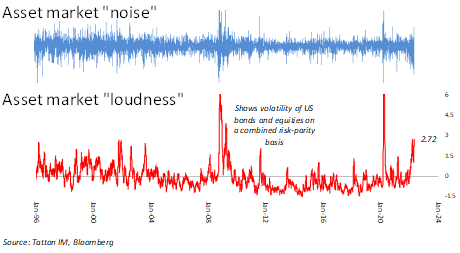 The red line shows how the "noise level" has risen – and the markets have only been getting louder. Currently, they are the loudest they've been in 25 years, with the exceptions of the global financial crisis of 2008 and the recent COVID-19 pandemic.

We have written about the concerted raising of interest rates on both sides of the Atlantic this week in the article below. These rate rises in the US and UK were expected (mostly) and yet both markets on Thursday were back on their rollercoaster ride. Equities managed a sharp rally and then gave up those gains, but they did manage to hold support levels within recent trading ranges. The S&P 500 is just below the 4100 level as we write, as it was on Monday.

At the heart of broad asset market volatility is the fall in the bond markets. Usually, if equities are facing a risk-off period, bond yields tend to dip, meaning their prices head higher. However, the rise in inflation has up-ended usual equity-bond relationship. This time the rise in yields is driving equity markets lower. Central Banks are seeking to prevent asset markets from destabilising the real economy. To that end, they are trying to adjust domestic demand in line with reduced output levels from China and Russia and have little idea of when those constraints will ease The Ukraine war, in particular, shows no signs of ending anytime soon.

As the Governor of the Bank of England Andrew Bailey said yesterday, labour markets continue to remain tight in the UK and US (although for different reasons.) This is only adding to supply-side problems. For both the US and UK, the uncomfortable truth is that consumer confidence has to be influenced to persuade households to stop spending as much. History and precedent suggests that also we need companies to cut their costs. The Bank of England doesn't anticipate that happening before energy price rises due in October this year– their forecast is for UK household energy bills to rise another 40% at that point.

Ultimately, it is businesses that are being squeezed by the policy actions. They are more interest-rate sensitive than households. That squeeze is coming from policy rates rising which causes government bond yields to rise, and also from credit spreads rising. The Bank of England forecast for UK GDP to contract by 0.25% in 2023 implies a sharp rise in corporate distress and default.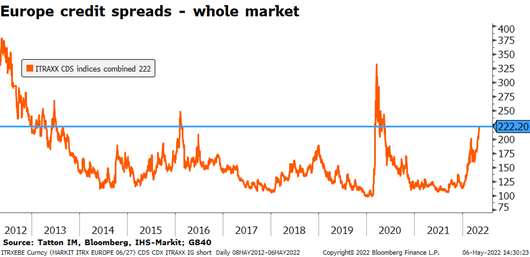 In January, credit spreads were widening as companies sought to get hold of cheap funding. Investors were inundated with deals. We commented at the time that widening spreads were a relatively healthy signal. This time around spreads are widening without a single deal being done in the high yield markets. At current yields, companies think rates are too high and investors think they're too low for the risk.

At some point that will reverse. Investors have been very wary of both equities and corporate bonds for weeks now. Cash balances are building up and risk premia have risen rapidly. Right now, with volatility high in all markets, there is a deep incentive to remain on the sidelines but institutional investors can't stay there forever. It would be better if markets stabilised and began a steady climb back up but we could get sharp bear-squeezes as well.

There are few obvious catalysts for markets to rally but we may get some help when Asia returns after the week of the spring holidays. China is in policy reversal mode and, although it has unfortunately recommitted to COVID zero-tolerance, Beijing is reopening tentatively.

Returning to the Bank of England, it has had communication difficulties for years now. Even though yesterday's messages were tough, they should be congratulated for their honesty and clarity.