New article from Tatton Investment Management: Watching and waiting
19 October 2020, 12:00am
A noticeable winter chill is in the air this week. The threat of fresh lockdown measures has become reality, with renewed restrictions coming into force not just in the UK, but across most of continental Europe as well. But unfortunately, the UK – once again – is faring particularly badly in virus terms.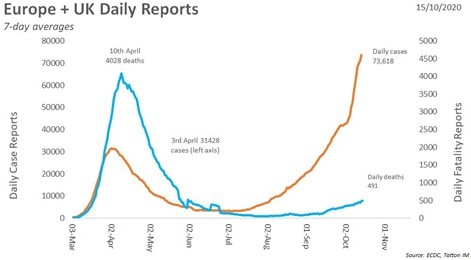 At the same time as this bleak news, Brexit negotiations have once again turned sour. Boris Johnson's self-imposed 15 October deadline has come and gone. Latest reports point to more than stalling in talks, after Johnson told the nation on Friday to "get ready" for a no deal Brexit – except that capital markets appeared utterly unconvinced – rallying throughout the day as if a deal is very close. The Prime Minister's chief negotiator David Frost claimed to be "disappointed" with the outcome from this week's European Council meeting. Among other things, fishing rights remain one of the big sticking points, with Johnson and French President Macron apparently digging into their respective sides.

It would be quite astonishing if a destructive result for both sides came about because of what is ultimately only an insignificantly small part of both British and French economies. But Macron's hard line shows little sign of letting up, and Johnson is reportedly trying to force a crisis in talks with the European Union (EU). The government claims that EU negotiators are dragging their feet, and Johnson is set to continue to emphasise the possibility of a "no deal" Brexit on 1 January.

We can take some heart from the fact that France's obstinate position is losing support even among usual allies. The German press this week was surprisingly sympathetic towards the UK, with media outlets blasting Macron's inconsistent demands. The French Premier will no doubt come under significant pressure to temper his approach. And, while the current Brexit rumblings are disconcerting, we must once again point out the immense incentive for both sides to reach a deal. With the pandemic decimating economic activity in the UK and across the continent, the worst thing for both sides would be an acrimonious split from a vital trading partner. In the words of Liberal Democrat MEP Andrew Duff (a lifelong European federalist and anti-Brexiteer): "To let this collapse over mackerel would be absurd. Everybody knows there is scope for a deal and that is what will happen".

In the US, things look comparatively better. While the trend in daily cases is on the rise, it has yet to pass its previous peak, and COVID deaths show no sign of increasing just yet. The US economy has also fared somewhat better than Europe – particularly compared to the UK – throughout the pandemic. But US virus numbers lagged those on this side of the Atlantic early on in the pandemic, and it should be little surprise if Americans are in for another spike towards the end of the year.

What's more, just as the Brexit deadline looms here, the all-important US election is now less than three weeks away. It was hoped that an agreement on much-needed fiscal stimulus could be reached before then – with Donald Trump spending big to boost his re-election chances – but with the bitter partisan deadlock in Washington, that is looking increasingly at risk.

With a sizable lead in the polls, Joe Biden is now the presumptive winner for capital markets. With an expansive fiscal agenda, that looks to be a positive for growth in 2021 and beyond. But the unfortunate flipside is that we may have to wait until Biden takes office for any more fiscal stimulus – as Senate Republicans seem intent on blocking increased government spending – regardless of their own president's wishes. Going into a potentially arduous winter, if this were to happen it would be a big negative for the US economy. The resilience of the US stock market tells us that they are just as unbelieving of impeding political disaster as the UK stock markets over a last-minute failing of Brexit negotiations.

There is a virtual consensus among economists that substantial fiscal stimulus is needed not just to plug the pandemic output gap, but to invest in a strong economic recovery afterwards. Even the International Monetary Fund (IMF) is now advising governments in developed economies to borrow heavily to fund public spending, assuring them that the growth pay-off will be enough to balance out deficits as early as 2025. Coming from the organisation that helped usher in the age of austerity following the 2008 financial crisis, this is a significant turnaround – and gives politicians a powerful political tool against would-be budget hawks. We dedicate a separate article to this below.

One thing we should note is that, despite this week's doom and gloom, underlying fundamentals are holding up surprisingly well. Pfizer and BioNTech are set to publish the results of their joint COVID vaccine trials later this month, and both companies have already mass-produced vast numbers of vaccine doses since the summer, ready for pinpointed release to the vulnerable and highly virus exposed before year-end. And, while looming COVID restrictions had led many to think that credit conditions would once again struggle under the weight of business closures, another corporate liquidity squeeze looks unlikely. According to a recent report from Goldman Sachs, businesses across the US and Europe are well-prepared for another economic shutdown.

When emergency lending measures were rolled-out at the onset of the pandemic, businesses stocked up with enough cash not just to handle immediate closures but also ones that may come further down the line. As such, the risk of mass defaults is not as high as one may have thought initially, even if further announcements of mass redundancies and corporate collapses will make for depressing reading over the coming weeks.

Altogether, this leaves us in something of a 'wait and see' period. A possible vaccine, a positive US election result and a Brexit resolution are all in the pipeline. And in the meantime, businesses are holding up reasonably well. As downbeat as this week's news may have been, the case for strong growth in 2021 remains quite firmly in place. We need only to make it through intact.