New article from Tatton Investment Management: V or U-shaped recovery scenarios - the jury is out
27 April 2020
After making a cameo appearance in the build-up to March's COVID-19 market crash, this week saw oil return in dramatic fashion to reclaim the spotlight. This time the performance veered almost into parody, with the oil price falling into the negative in US markets, thereby displaying price dynamics previously thought impossible. However, just like other 'unprecedented' macro-economic data points that we predicted would start to filter through, the story behind the headlines only relates to very near-term misbalances between excess oil supply and much-reduced current fuel demand – negative prices occurring due to the nature of fixed time delivery contracts versus very limited US storage capacity. Stock markets reacted to this oil news story with far less lasting excitement than in March and, after a day of downdraft, instead continued on their path of upward consolidation. We have dedicated a separate article this week to the oil price dynamic, because within the forward contract nature of oil we have noted an underlying market predicter for the return of economic normality over the coming weeks that appears to be worth monitoring.

Indeed, 'peak lockdown' appears to have replaced 'peak virus' as the most discussed topic, not just in finance circles, but up and down the country and internationally. As daily news registers falling fatality numbers and healthcare systems coping without the need for 'triage' decisions by hospital staff, attention appears to be turning towards the economic damage versus loss of life trade-off that was initially accepted with very broad support. The fast-increasing focus on economic concerns shown in the YouGov chart below is not limited to the UK and has created the impression that we have passed the peak of global activity lockdowns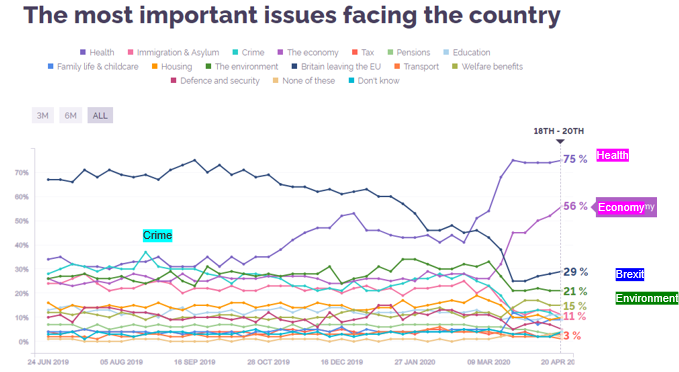 While many have warmly welcomed the idea of a gradual relaxation of the strictest lockdown constraints, for those working hard at assessing the probabilities for a fast and sharp recovery (the famous V-shaped version) versus a protracted slowly-slowly return of economic normality (the less popular U-shaped version) it has been a week spent comparing what can best be described as 'trial and error' national approaches.

The comparisons offer a range of different scenarios. China is clearly ahead and their fast improving economic indicators tell us they have managed to turn their economy back on. However, this is focused on the manufacturing sector, while any part of the service sector that involves close human to human proximity remains dormant. The reason for this is a very strict "track, trace and isolate" policy, based on a mobile phone app that regulates individuals' ability to access places outside their home depending on previously-recorded movements and encounters. Any accidental encounter that was more than a mere passing in the street with anybody who later tests COVID-19 positive means going back indoors into strictest 14-day quarantine.

This 'hiding from the virus' approach has proven highly effective in preventing higher fatality rates, but comes at the cost that unless a cure or vaccine becomes available in short order, society remains exposed to the risks of a second wave and therefore has to remain in an economically painful soft lockdown for the time being.

Sweden and some Developing World countries have deliberately (or out of sheer inability to afford economic lockdown) chosen the other extreme. This approach has aimed for self-immunisation through infection, also referred to as 'herd-immunity', by allowing the virus to spread slowly and thereby paying the price of a higher fatality rate amongst – in particular - the elderly and vulnerable. Clearly, once a population reaches 'herd-immunity' the risks – to public health and the economy – of a second wave disappear.

Most western industrialised nations, including the UK, find themselves somewhere between China and Sweden – usually out of coincidental combinations of lockdown timings and varying hospital bed capacity. Should effective anti-viral drug treatment prove impossible in the near term, and mass vaccination roll-outs arrive only in 2021 as predicted, the Swedes' herd immunity approach could turn out to have been the winning strategy, as long as they can maintain public backing by keeping fatality rates to levels no higher than elsewhere in Europe.

Should COVID-19 suddenly disappear in May – as SARS did back in 2003 – or the pharmaceutical industry wins the race, then the Chinese approach of buying time through quarantine would be deemed to have made the most reasonable balance between the human and the economic cost.

Politicians everywhere will be following the relative success of both approaches very closely over the coming weeks. That, together with each countries' ability for mass infection and antibody testing will inform their decision making. It would appear each countries' speed and ability of returning to pre-virus activity levels will determine whether their recoveries will follow the V or the U recovery pattern. The increasing focus on the looming economic consequences amongst western societies leaves us wondering whether politicians will soon find their ability to take decisions severely hampered. It is therefore not inconceivable that 'peak-lockdown' has passed, no matter what warmer temperatures and pharmaceutical progress may hold.

Over the past few weeks we have noted the friction between the resilience of stock markets against the backdrop of truly shocking – down to levels never recorded before – economic dataflow. We suspect that the growing determination to countries 'get back to work' has to do with this resilience. However, beyond what we discussed last week, stock markets are also possibly being bolstered by asset price inflation, given the inflationary tendencies of the extraordinary monetary support measures that have been enacted over the past six weeks, and with the prices of goods and services suffering a deflationary demand and supply shock. This at least was what we observed and learned during the post financial crisis rounds of central bank QE.

All this still does not leave us with any more conviction than 50/50 odds that March will prove to have been the worst month of this COVID-19 bear market – however long it lasts. That said, it is important to remind ourselves that past recessionary periods can offer little guidance to this current crisis, and that global stock markets – and asset prices – are undergoing their own period of trial and error.