New article from Tatton Investment Management: Us-China cold war: Threat or blessing?
18 May 2020, 12:00am
Halfway through May and stock markets have continued to deviate markedly from the classic bear market pattern described in "The anatomy of a bear market" in The Tatton Weekly of 27 March (see graph on next page). What looked very much like a bear market rally in the last week of March is increasingly looking like a V-shaped market recovery, and thereby quite different from what we have come to expect from the restarting of the economy. As more and more countries are anxiously lifting restrictions of movement for their citizens, it is becoming clear everywhere that it was far more straightforward to send workers home than bringing them back to work is proving.
In the absence of truly effective anti-viral drug treatments against COVID-19, or vaccines (even in the best case) only becoming widely available towards 2021, we cannot seamlessly switch back on what we switched off and many activities that make up considerable parts of our western economies will take much longer to return than a V-shaped recovery would require. This means that the recession the lockdown has caused is likely to last somewhat longer and be more pronounced in sectors that depend on close social proximity. When the upward trend in stock markets seemingly ran out of fuel this week, many were quick to exclaim that, at long last, equity markets were coming to their senses. There is also the belief that very elevated valuations are desperately out of step with the severity and length of the depressed corporate earnings ahead.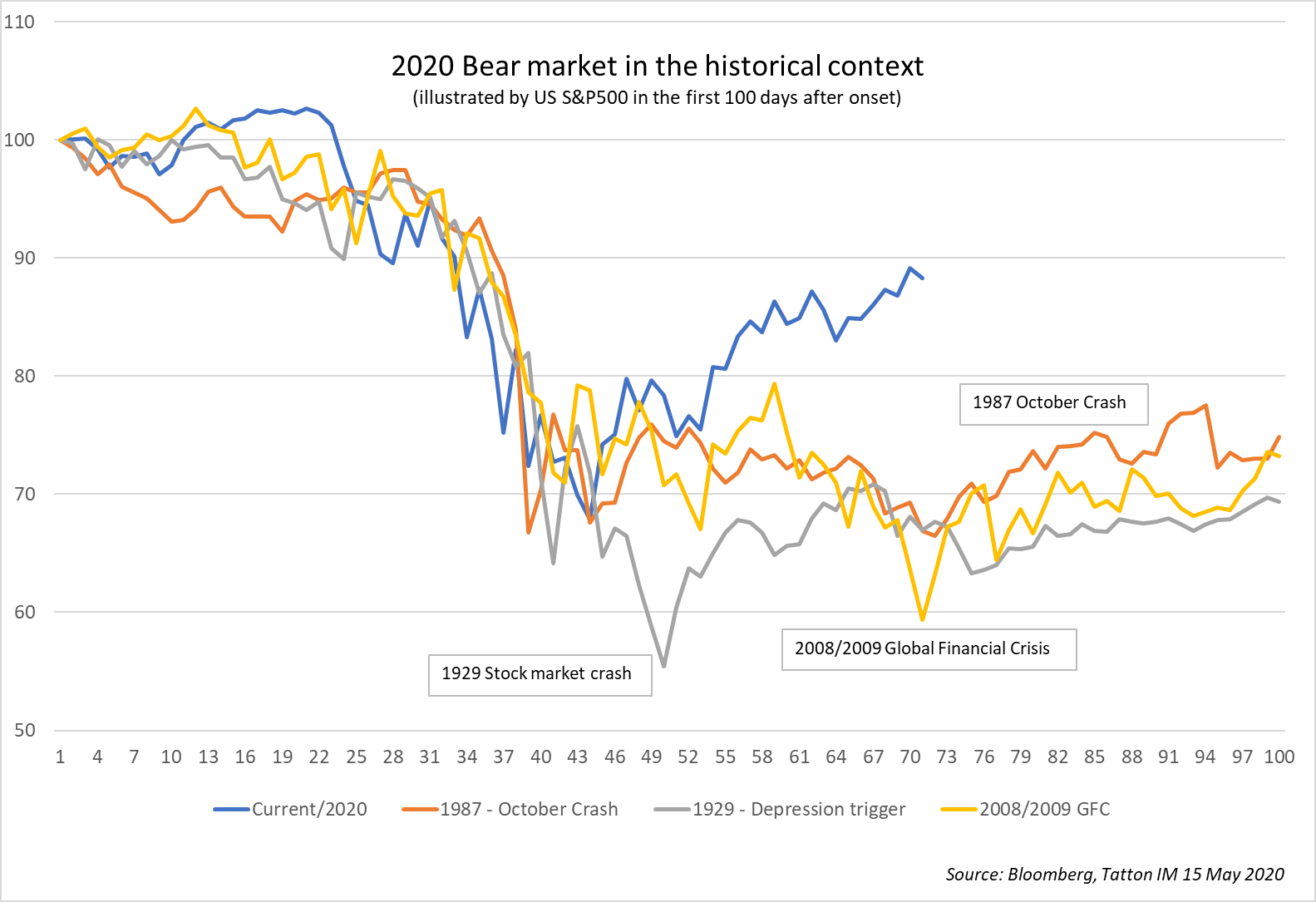 While we agree that valuations are out of lockstep with the near-term reality of depression-level economic activity levels, the playbook for capital markets has been just as much upended as the rules we normally follow in our private and business activities. Without precedent to take clues from for what fair value should be under these abnormal circumstances, it is best to hold on to and take guidance from what we do know. The enforced economic hibernation will eventually end, either with the emergence of drug treatment/vaccines or more gradually as we learn to contain the virus spread and protecting the vulnerable and elderly. At that point, the economy will still be there with everybody particularly keen to catch up on the aspects of their life that have been missed.
Over the past three weeks – on my cycle commute through various parks from the suburbs into Central London – I have witnessed first-hand how fellow urbanites are gradually emerging from lockdown and flocking into in open spaces. It is remarkable to observe that the COVID?19 infection reproduction rate R is now lower in London (0.4) than it is in Yorkshire (0.8). If it remains so, this means either that Londoners have learned not to spread the virus (despite widely flouting the two-meter distancing rule and mostly still not wearing face masks), or that the capital's population – which had the highest infection rate in March and April – has already established a level of herd immunity that puts a natural barrier in the path of the virus.
Alas, this is the optimistic view. There are just as many who believe lockdown has been lifted prematurely and that a second wave – and another enforced lockdown – would be even more devastating to the economy than the first. As in the past, we prefer to take our leads from countries in Far East Asia, which remains a several weeks ahead of us. While they have struggled to stage a V-shaped recovery for their economies, they have rebounded pretty strongly and thus far been able to prevent a major second infection wave.
We think a period of consolidation within equity markets should be welcomed. It is certainly preferable to seeing a continuation of April's upward surge, which would increase the vulnerability of stock markets and create volatility and unhelpful wider economic instability. At the same time, the old investment adage of 'sell in May and go away' feels misguided this time. Not because we cannot 'go away' very far yet anyway, but because so many things are in flux which could change the current forecasts and expectations rapidly.
When major negative and unexpected events happen, humans have a tendency to further extrapolate the negatives rather than expect positives. We have collectively experienced a classic 'Black Swan' event, (i.e. something quite devastating but with a relatively low probability of occurring). The currently discussed future negative virus scenarios saddle another 'black swan' event on the first one, without sufficiently taking into account that our ability to fight back has vastly improved.
Sadly, new and entirely man-made headwinds are on the horizon, as politicians like Donald Trump are desperately trying to distract from their disastrous crisis management by blaming others for their own failings. As long as the threat to cut all relationships with China is no more than hollow short-term campaign noise it does not matter too much. However, should maverick populist leaders like Trump, Putin, Erdogan and Bolsonaro actually embark on a major and immediate de-globalisation program, the recovery the world so crucially needs would be more in greater peril than a second virus wave could cause. Luckily being populist rather than dogmatist also brings a high dependency on swing voters who are highly exposed to the gyrations of the economy and the jobs market. With Donald Trump striving for re-election in the autumn, return of economic vibrancy is paramount, and at odds with restarting major trade wars.
For the moment, the accelerating rivalry between China and the US may actually carry a benefit for humanity. Both are desperate to win the race of being the first to possess and produce an effective vaccine in large quantities. The ability to inoculate large populations would allow the winner to not only establish a domestic economic advantage over the other but also earn gratitude and respect with regions they would like to increase their influence over, like Africa and South America.
China is six to eight weeks ahead of the US in the pandemic and its vaccine development may also be able to progress quicker. It will be very interesting to see whether Chinese pharma firm Sinovac will finish its phase two clinical tests and begin producing and distributing their vaccine in July, as indicated by CEO Weidong Yin. A cold war-like 'arms race' of this nature strikes us as far more beneficial to mankind than all the currently popular black swan scare scenarios.
We are by no means out of the woods, but the foundations are laid for a summer with greater potential for fast-changing expectations than any 'sell in May and go away' maxim could ever assume.