New article from Tatton Investment Management: Summer lull as markets go through the motions
30 July 2021
We wrote last week, that fortunes could be changing on the COVID front, with UK case numbers showing a decline from their (possibly temporary) peak. Since then, the 7-day average for daily cases has fallen for the first time since Britain started reopening. It is far too early to say whether this marks a sustained turn for the better, but it has certainly brought some much-needed optimism. The good mood has spread to markets too, with UK assets outperforming global peers and sterling gaining against other currencies.

Despite the government's 'Freedom day' last week, things are only slowly returning to normal. Google's mobility data shows the flow of Britons back into offices is still weak relative to the beginning of 2020 – though the UK had more centralised working in its major cities than other European nations. Some of this will undoubtedly be down to seasonal effects – with the summer holidays in full swing and workers enjoying the sunshine. We have noticed on our own team that holidays are being taken enthusiastically – something the government will have no doubt hoped for to limit the virus spread as restrictions are eased.

We will, therefore, have to wait before making any firm conclusions about what the post-pandemic future will look like, at least as far as office life goes. Still, it does certainly look for now that some commuters are reluctant to brave the roads and trains.





That seems to be symptomatic of the wider economy which, despite the opening up and market positivity, has yet to fully click into gear. Britain's retail and recreation sectors appear to be lagging European counterparts, despite nearing population-wide vaccination rates.

That said, being close behind our continental neighbours is not such a bad thing, given the impressive economic rebound happening in Europe. Eurozone growth is continuing its recovery from the pandemic trough, with growth levels matching the US. JPMorgan noted this week that economic sentiment in Europe has jumped this month to the highest level since data collection began in 1985. This backs up the impressive sentiment surveys we saw last week, which recorded high levels of business and consumer confidence.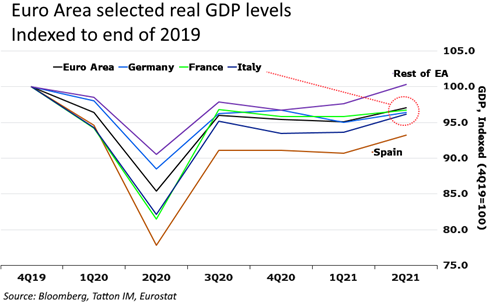 Gains were led by Europe's three largest economies, Germany, France and Italy, where vaccine programmes are picking up pace. Infection rates spoiled the mood in other parts of the European Union (EU), as some countries with sharp increases in cases – such as the Netherlands – are reporting declines in growth. Spain countered this trend though, posting a gain in July, albeit not to the same extent as Europe's other major economies.

Manufacturing saw strong output expectations, with a new record low on the inventory index. Low stocks will support the recovery once supply constraints ease, with businesses gaining more pricing power. In the services sector, the forward-looking indicators look more mixed. The same is true for retail and consumer confidence, pointing to areas that may well take some time to get into the post-pandemic groove. Even there though, confidence is high in absolute terms, though employment intentions eased down from previously strong levels.

Other signs are good: capacity utilisation rose in both services and manufacturing, consistent with the improvement in output. On the flipside, we are seeing dramatic supply shortages in everything from staff to equipment and materials. This is a theme across virtually all developed economies, with reports of tight labour supply in the US, UK and Europe. For the Eurozone, quarterly readings probably hide an improvement after the end of June, and it is notable that shortages were reported before the start of the pandemic, which had only limited impacts on wage growth.

In the US, growth came in weaker than expected. This is likely down to the supply shortages we mentioned, with businesses finding it increasingly difficult to source goods and employees. Inventories were depleted in the latest data, and net imports rose substantially. Just like in the EU though, the restocking process should become a strong driver of growth in the second half of this year.

Whatever the case, the world's largest economy is now running at a reasonable pace, coming down from the stratospheric levels we saw earlier in its recovery. This slowing of US growth has impacted bond markets, with investors now putting less upward pressure on yields. This normalisation will give the US Federal Reserve (Fed) some leeway in pulling back its bond purchases. The July meeting showed Fed members inching towards this process, but August will likely see more firm proposals floated.

The slowing of growth expectations – together with the Fed's continued bond purchases – is having a huge impact on real (inflation-adjusted) yields. US Treasury yields have sunk to new depths in real terms, and their impact is spreading to other inflation-linked bond markets. Japan's real yields have similarly fallen. Real yields are a vital piece of the puzzle for any investment outlook, helping set expected returns relative risk and, therefore, having a big impact on price-to-earnings ratio.

Equity markets are therefore being supported by the fall in real yields. This comes despite a lacklustre quarterly earnings season compared to the last three quarters. Amazon, one of 2020's big winners, posted results below analyst expectations, leading to a 5% fall in price. Earnings expectations rose significantly when the growth outlook started improving earlier this year. They're still improving, but at a more normal rate, in line with the robust economic activity. It may feel slow but compared to the 2013-2019 period, it will also remain robust through the rest of the year.

However, real yields are low compared to that likely robust real economic growth. As was the case in 2013, those low yields allow the Fed to act. They can taper in the expectation that real yields may rise but still remain negative out to five years. This would be less supportive for equity markets and the Fed will have to be careful the rise does not become disorderly. Should it manage this well, earnings growth will remain intact, offsetting the yield rise. Nonetheless, it could mean tougher times ahead for equity markets, and they may spend some time treading water.