New article from Tatton Investment Management: Stall speed economy fears spreading
7 October 2019
Once again, politics took our breath away during this first week of October. Donald Trump appeared to live-stream ever more evidence for his own impeachment, while the UK's Boris Johnson ricocheted in his Brexit language between "last and final offer", "a genuine attempt to bridge the chasm" and "broad landing zone in which I believe a deal can begin to take shape".

However, this was only at the periphery of what drove stock markets around the world into another sudden sharp correction after what had been an undeniably pleasing September for risk assets (see the monthly risk asset returns table further down). What triggered the sell-off was an array of disappointing business sentiment readings. These led to a sudden realisation that neither the US economy nor the global services sector are any longer immune to the ongoing economic slowdown in manufacturing. A slowdown that started with China's clamp down on its shadow banking sector, spread via slowing global car demand (on environmental concerns) and has recently been further exacerbated by falling business demand caused by uncertainty from Trump's trade wars and Europe's Brexit malaise.

Up until now, most western economies had not slowed below the merely weak GDP growth figures that we had become used to since the 2008/2009 Global Financial Crisis. This was partly because the manufacturing sector is these days of a far lesser importance in developed economies than it used to be. But it was also because the ongoing reluctance of businesses to invest towards productivity enhancements – due to various uncertainties – has kept the labour markets tight, which has underpinned wages, consumer confidence and thus the services sector where we spend most of our household's money these days.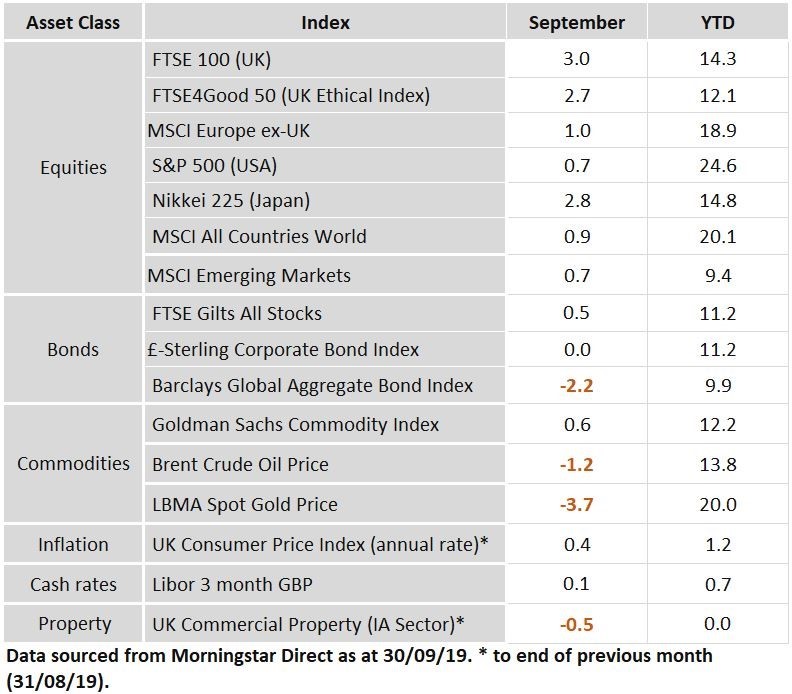 The US had escaped the global slowdown altogether so far. Whether that was because of the Trump administration's massive fiscal stimulus through the 2018 tax cuts or because of their globally leading technology sector acting as a phenomenal attractor of global demand is widely debated. Last week's reports of accelerating declines in US manufacturing and service sector outlook gauges brought this to an abrupt end and with it the last hopes that at least the last quarter of 2019 would see an acceleration of economic activity around the world and not yet another slowdown.

Solid and better than expected US job growth numbers on Friday rekindled the hopes for the economic stabilisation narrative and stock markets recovered some of their earlier falls.

What this episode demonstrates once again is that both the global economy and capital markets are finely balanced between fear and hope. Fear that the already slowing growth around the globe is grinding to a halt, leading to a recession. And hope that politicians will be forced to sort out the trade friction mess they have created sooner rather than later, which should unleash meaningful amounts of pent up business and consumer demand for manufactured goods which – leading to an economic rebound.

Various studies by central banks and economics institutes suggest that the ongoing uncertainty has already been around for too long to reasonably expect a swift bounce back of demand. In order for late 2019 to mark the turning point for global growth, we are in desperate need of some indication that global demand growth will return, or that political progress will be enough to improve business sentiment. Otherwise, the 'blip' could well become a lasting downturn.

Unfortunately, the political news flow of the week has not been overly optimistic. Time is running out to support expectations of a fast turnaround, while the economic evidence is pointing more and more towards a gradual but steady slowdown towards a dangerous stall speed.