New article from Tatton Investment Management: Slowly turning
28 October 2019, 12:00am
Another week, another Brexit delay. EU leaders have decided to wait until after the election vote next week before saying how long may be acceptable for another delay. Despite some tough words from France, it seems unlikely they will be so unreasonable as to force the UK to emergency measures to avoid being 'thrown out'. Meanwhile Jeremy Corbyn and the Labour PLP are caught in "the Cummings Trap", the party that says "no".

We wrote before that the Boris Johnson story would mark the closing chapters of Brexit – but that an exit by the end of October was unlikely, his preference for being dead in a ditch aside.

If the Prime Minister gets his election on December 12 after having delivered on his Brexit promises, it would most likely give us significantly reduced levels of near-term uncertainty, which would be a considerable positive for both the UK economy and its stock market. But the trade-off for this is increased medium-term uncertainty: the real negotiations – which will determine the UK's future – will only start at that point. There is a real chance that Johnson's envisaged form of a relatively hard Brexit would lead to a break-up of the UK itself, and substantive trade negotiations can only really happen at that point. For all the negativity however, there is still a strong case for the UK as an investment proposition. We write more about this in a separate article.

Now on to other developments. We note that the movers and shakers in the economic policy realm are becoming increasingly in favour of fiscal easing – with a chorus of economists and global central bankers now urging governments to invest. Outgoing ECB President Mario Draghi found it difficult to convince European politicians of any real change during his tenure. But the incoming Christine Lagarde is a politician herself and may prove more persuasive. Many European governments are on board with fiscal action, but her task will be to convince German politicians that, if they want to save their banks from negative interest rates and yields, they need to flank monetary policy with fiscal support. Either that or accept that the ECB needs to buy Italian government bonds. We will see which route it takes. See our article below for more on the growing consensus for fiscal expansion (more in the separate article).

In other news, we advised last week that we would keep an even closer eye on the corporate results announcement season this quarter, because investor sentiment now hinges on it more than usual. The earnings season has made an encouraging start in the US, but slightly less so in Europe and Japan. 82% of the American companies that have reported so far have beaten earnings-per-share estimates for the last quarter, with that figure at 59% and 54% in Europe and Japan respectively. As we wrote last week however, these figures can be a little misleading. Since the surprise metrics (how earnings fared relative to estimates) are important for sentiment, companies have learnt that they are better off guiding forecasts down in the run up to the earnings season only to beat them later on – precisely what happened this time.
More important therefore is companies' expectations for the coming quarters. And on that front, things have been mixed. There were some positive statements from European luxury goods makers – which most likely is due to positive demand from China.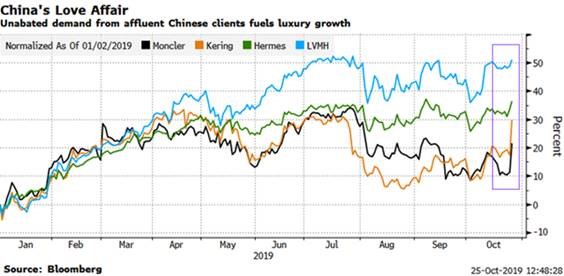 Nevertheless, market sentiment seems to be picking up. The fact that bond yields have moved higher while equity markets have traded sideways suggests that short sellers are getting squeezed out of the market, and risk sentiment is improving. The economic data does not yet support a significant move up in markets, but it does seem to be stabilising – which will likewise have a positive impact on sentiment.

The big one to watch for markets this earnings season is the fate of large US technology companies which had been driving stocks upwards for most of this market cycle. When office space provider WeWork had to shelve their prospective IPO a few weeks ago (and this week had to seek a bailout by its biggest private equity investor) many commentators suggested it could mean the end of big tech's stock market supremacy. Spectacular growth has been the main aim of these companies for some time. But we note that many of the outlook statements from tech companies this time around seem to be focusing on the prospects for profitability, rather than just growth. This could well be a sign of the changing times, with the economic and regulatory environment now seeming to swing against them and tech growth gradually morphing into less exciting utility companies.

But as we noted some weeks ago, companies all over the world are seeing their profit margins squeezed as a global slowdown, trade frictions and growing wage pressures begin to bite. Amazon's results on Thursday showed that even the tech superstars are facing the same problems. That may be a cause for concern.

The preliminary-release Purchasing Manager Indices signalled a currently weak global economy (according to Capital Economics) but it does not seem to be spoiling the mood in capital markets. They seem to be betting that a turnaround is in store for the economy. The turn-up in new orders is now into a second month, most likely led by that swing in demand from Asia (chart below, right panel). The sharp fall in the employment forward indicators (chart below, left panel) would have been a worry a month ago, but the bad news might actually be good if it presages a slowdown in wage pressures rather than a rise in unemployment.



Looking ahead to next week, the US rate-setters (the Federal Reserve Open Market Committee or FOMC) meet and are expected to cut rates on Wednesday. Analysts have expected another 0.25% cut for some time and continue to do so.

However, this week has seen a fall in longer bond prices (and consequent rise in yields) following the IMF meeting. The market is taking the central banks' concerns about the efficacy of monetary policy seriously. Shorter-term rate expectations have not moved much, but the market is now moving away from believing monetary policy is the likely response to a crisis. The market's implied probability of even lower rates has diminished, and expectations of more QE are also on the wane.

So, investors will care most about the FOMC's future disposition. If other central banks are an indicator, we should expect to hear more about being "responsive to the upside" and "signs of labour cost pressures". That is not such good news for longer bonds. The price falls this week may be the start of a bout of medium-term downward pressure.

Given that the very strong returns of 2019 have been largely attributed to improving sentiment, and given the return of the central bank's monetary easing (introduced after the fears for the opposite caused the Q4 2018 market correction), the big question is how much central banks will be able to step back from further easing without causing another market tantrum. Much will hinge on whether the 'green shoots' of returning demand growth can sprout further, and whether governments are willing to help them with constructive fiscal easing.

The fragile balance between fear and greed continues.

(…or between JOMO and FOMO if you are trying to explain to your teenager or grandchild; Joy of missing out vs. Fear of missing out in case there is no access to younger generation translation support)