New article from Tatton Investment Management: Positioning for a summer of wait and see
15 July 2019
Tatton's investment team held its in-depth investment committee meeting this week, where we reflect on how the economy and capital markets have developed relative to our expectations from previous meetings and what may have changed that would justify a change of direction. As laid out last week we are currently holding a neutral position across portfolios. This is because the central banks' indications to ease monetary policy once again have driven bond yields down and equity valuations up, but their stimulating effect has yet to filter through to actual activity level improvements across the global economy, and as a result corporate earnings growth has fallen behind the upward surge dynamic of stock markets.
While this may, over the shorter term, defy the economic rationale that governs the longer term direction of capital markets, there is also the US mob's adage 'Don't fight the Feds' which investors have adapted to 'Don't fight the Fed' – the US central bank, not the FBI. Periods of this type of market dynamic are uncomfortable because it is hard to project how long investors will accept bad news as good news in return for central bank liquidity, however these periods tend to be very profitable while they last, as the very positive returns for 2019 thus far prove.
The myriad of macro, micro and monetary charts and tables we went through informed us that this period of little economic justification for stock market advances is very likely going to continue until at least the early autumn. By then it will become clearer whether the recent stabilisation in industrial production and in sentiment will be sufficient to allow the much better-faring services sector and consumer sentiment to lead the global economy back to the resilient (if sluggish) growth that has characterised much of the past decade.
Central bankers certainly did everything in their power to deliver their side of the bargain. The US Fed Chair Jay Powell's testimony at Congress left no room for the rate setting committee to do anything other than to cut US interest rates by at least 0.25% when they meet at the end of the month. The same cannot be said about politicians. Trump's unprecedented personal insults on the leading public servants and politicians of his closest allies can be seen as an indication that he will not shy away from training his trade war guns on his partners in the West once he is done or gets bored with his adversaries in the East. Similarly, the disconcertingly hard and uncompromising Brexit message from the most likely future leader of the Tory party (and of the country) was taken badly by capital markets, driving down £-Sterling. However, these Brexit tones need to be seen in the context of a political campaign aimed towards a subset of just 0.25% of the UK's electorate. Given the UK remains a parliamentary democracy, regardless of who selects the prime minister, the available set of EU exit options will not materially change between the incumbent and future prime ministers, regardless of what may have been alluded to in order to win the leadership contest.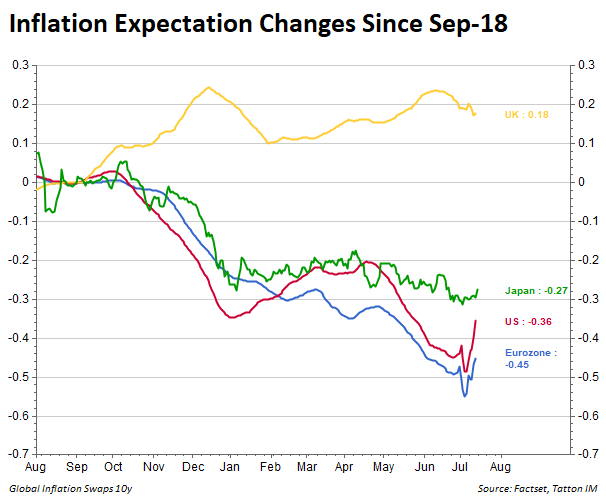 In terms of economic news flow and market action, this week may well have marked the end of declining bond yields. There were much stronger than expected employment numbers in the US, and positive industrial production data from Europe, signalling that the economy is perhaps in better health than suggested by the negative long-term bond yields in many parts of the western world. The UK followed this trend with its own set of Brexit-distorted data, with a remarkable deviation from the trend, namely much more constructive inflation expectations than anywhere else. As the chart below shows, compared to all other central banks the Bank of England's rate-setters may indeed have very little reason to lower rates on grounds of deteriorating inflation expectations. Whether that's a positive or negative indicator is another mystery which we will hopefully be able to understand better by the end of the summer. By then we should know whether we are nearing another Brexit cliff-edge or - as seems more likely – another procrastination of the process.