New article from Tatton Investment Management: Markets pause for reality check
25 November 2019
Conventional market wisdom holds that the cold and damp of autumn usually heightens the probability of downside volatility in markets – particularly when the economic outlook is unclear. The last quarter of 2018 was a prime example of this. Fortunately, no one seems to have told the markets. The waning of summer only saw the markets' upward momentum briefly disrupted during October, with stock indices around the world now sitting at highs, not lows, for the year - this is despite an economic and political outlook still plagued with uncertainties.

Perhaps we should not be surprised. The recovery in market sentiment we have seen this year has certainly propelled equities to new heights in nominal terms, but in terms of valuations (share price levels as a multiple of annual earnings per share) we are merely back to where we were before the almighty sell-off at the end of last year.

Back then, we said that markets were overreacting. When central banks moved from tightening monetary conditions back to a loosening stance, fears over higher corporate financing costs – and the recession-inducing default cycle they could trigger – dissipated. This prompted a turnaround in investor risk appetite (we cover the relationship between central bank policy and markets in a separate article below).

However, the latest earnings season has failed to bring any more growth in company profits, so it is difficult to see where further upside for stock markets could come from. Overall earnings per share in the last quarter were slightly down from the same period last year. This is not too surprising: Q3 2018 delivered double digit growth in earnings (boosted by Donald Trump's tax cuts) that was never going to be surpassed. More concerning are the outlook statements from businesses and analysts, which point to no significant growth rebound in the current quarter. The outlook statements are worse than historical standards, as the chart below shows. Certainly, they provide little justification for the market optimism we are seeing.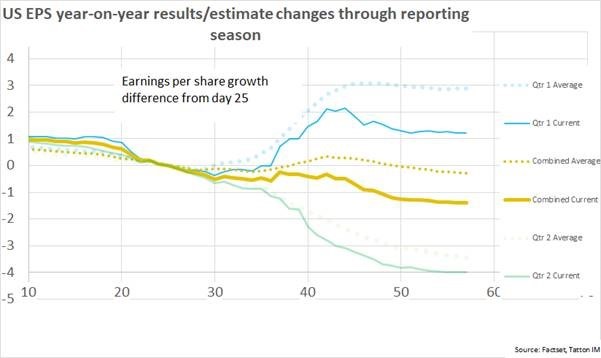 For markets to move up from here, we need to see improvement in the global economic growth outlook – or at least some hope that it is coming. The most obvious catalyst for that is an end to the US-China trade war and a removal of its damaging tariffs. A couple of weeks ago we seemed to have a breakthrough, but as has been the custom with Donald Trump, things have turned around yet again. The ongoing protests in Hong Kong (supported by Republican politicians all the way up to Vice President Pence) and the escalation of impeachment proceedings will make a trade deal difficult in the short term. Trump's administration will not be focused on China at the moment and may well want to stir up fervour against China as the enemy in order to rally domestic and Republican party support.

Just last week, we heard through the financial grapevine that many institutional investors who had previously held large cash positions jealous of the lofty returns on risk assets were deciding to join in the party. Fear of a slowing macroeconomic environment was outweighed by fear of missing out. This created positive market momentum, suggesting that the rally of the last few months might lead naturally into the traditional Santa Rally, to the benefit of those investment groups only now joining in the festivities.

But this week, that kind of talk has receded, with many now worried about the sustainability of the rally. This is despite this week's European and US business sentiment numbers (Purchasing Manager Indices - PMIs) providing some hope that global economic conditions have found their low point and are set to improve from here. The return of positive (albeit sluggish) growth from here seems reasonable. In a way, the fact that markets are not reacting with jubilation to these uninspiring but somewhat reassuring figures is a good sign. If risk markets took this as a signal to steam ahead into a Santa Rally, we would start to feel quite nervous about the sustainability of asset prices. If that happened, valuations would be back at the unsustainably high levels from the turn of the year 2017/2018.

The real base for sustained stock market growth would be a meaningful rebound in global economic growth, but the catalysts for that growth are still lacking. Fundamentals have yet to recover and the global political backdrop still presents many risks which could undermine any nascent return of growth. Additionally, central banks have been at pains to make clear that they can no longer salvage the economy with monetary policy. Central bankers are concerned that ultra-low interest rates and yields are damaging the banking sector, which remains vital for the overall health of economies due to its credit transmission function.

In summary, we at Tatton are neither surprised nor entirely unhappy that stock markets have paused their upward surge, perhaps for an overdue reality check. Readers who may have feared that this week's slightly negative stock markets are a sign that investors have been frightened by the openly socialist Labour Party manifesto, can be reassured that those movements followed global not domestic developments. The value of £-Sterling, which has typically been the best indicator for the waxing and waning of investor sentiment around political developments in the UK, has hardly moved, and has held the considerable gains since the lows of the summer.

We would agree with markets and not regard this as ignorance of the potential damage Labour's stated policies could have on UK investments. Instead, the calmness comes from the realistic assessment that even under the currently unlikely scenario of a Labour-led government – likely a minority or coalition that would force the Labour leadership to a more 'middle of the road' agenda. Those who would abandon UK stocks from fear of the Labour Party could be compared to those who sold their US holdings worried about President Trump – leading to very considerable loss of upside opportunity against a marginal reduction in overall downside risk.