New article from Tatton Investment Management: Markets are enjoying an uncomfortably benign pandemic
8 June 2020
May 2020 will be remembered for many things. For most of the world, it was when lockdown measures began to ease and people filtered back out into the sunshine for the first time in weeks. It was also when the size of the economic problem facing us become abundantly clear. US unemployment numbers released for April showed the number of jobless Americans at its highest on record, although that decline has been tempered somewhat by the announcement today that the US economy added 2.5 million jobs in May (even so, an unemployment rate of just above 13% is still incredibly high for US standards). Big companies have rolled out global restructuring plans to cut employees and costs, and the depth of this government-directed recession has grown clearer by the day. The policy problem facing governments – how to balance equally enormous health and economic concerns – was a constant concern throughout the month.

Politically, May was fractious as ever. The Chinese government moved to effectively end Hong Kong's autonomy, dramatically heightening tensions between China and the US. And at the end of the month, tragically, yet another unarmed black American was killed by those meant to protect him. Widespread protests across the US – and indeed the world – kicked off, and the public anger, and heavy-handed response from authorities, has led to scenes that none of us expect to see in a democratic nation.
And yet, for investment professionals, May will be remembered for entirely opposite reasons. Despite the turmoil, equity markets continued to soar. In sterling terms, UK stocks were up 3.3%, while Japanese, European and US equities shot up 8.1%, 7.8% and 7.1% respectively. Oil prices, languishing during April, had their best ever month – climbing 45.8%. These moves have left stock valuations at eye-watering levels. From an investment perspective, perhaps the word that best sums up May 2020 is 'disconnect'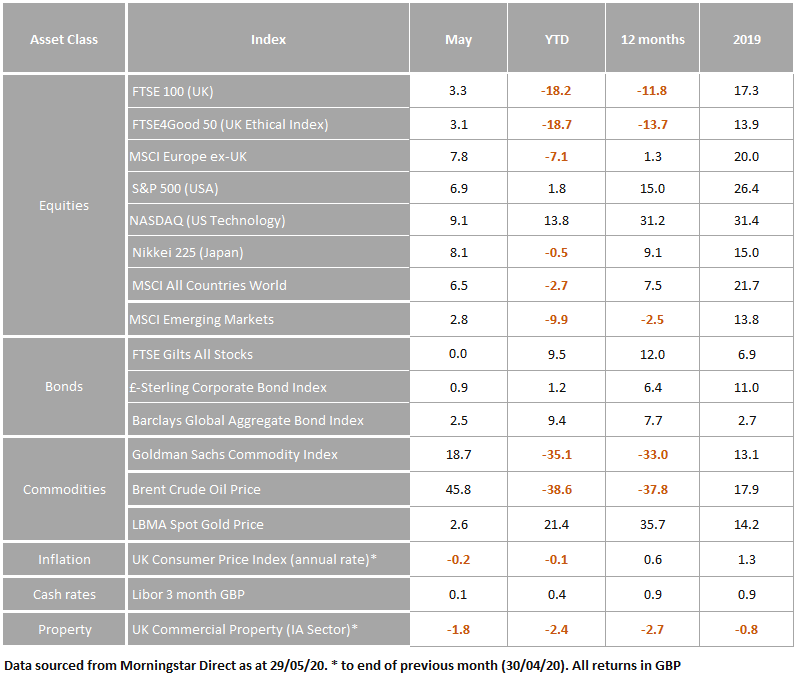 From an outside perspective, it might look like capital markets are in their own fantasy world, blissfully unaware of the chaos that surrounds them. But markets are not just running on hot air. First, the unprecedented support measures from governments and (particularly) central banks have left the financial system awash with liquidity. The abundance of capital to spend has drastically lowered the risk premium (the return investors demand for a given level of risk) across all asset classes – with equity still offering one of the highest. Second, we have seen a substantial increase in demand for capital investments from retail investors. The public is putting its lockdown savings to work in capital markets, adding further to global liquidity.
These factors change the way we look at markets. While the pulse of the global economy is indeed slowing, we must remind ourselves that it is doing so because governments are putting it into an induced coma – which is temporary. Most businesses around the world have taken a huge hit to their earnings and balance sheets, but this is true for (almost) everyone, so few have a competitive advantage. At the same time, governments have made it their mission to ensure companies and individuals do not go bust as a result of the pandemic. And since the threat of systemic and widespread bankruptcies appears removed for now, the question appears not to be "should I invest?" but "where should I invest?" This is why assets that offer even a mildly better return prospect beyond the next few months – that is, equities – are doing so well. It also explains why the growth-intensive US technology sector has performed so well – posting a 9.1% gain in sterling terms last month.
The current capital market mood stands in stark contrast to a few months ago, when investors were selling everything not nailed down in a panicked frenzy. By contrast, markets now definitely seem to be in a 'risk-on' phase, despite there being a plethora of risks around. Emerging market debt, for example, returned 4.6% during May. This makes sense given the above factors, but it makes for uncomfortable reading, nonetheless. Just as the sell-off from late February quickly spiralled lower than could be justified by reasonable economic expectations, the higher the current rally goes the more detached it becomes from economic reality.
There are, thankfully, reasons to be positive about the global economy over the medium term. These are mostly based on the speed at which countries are opening up, but long-term fiscal factors – such as the German government's plan announced this week – are also a huge part. Even if few European countries are able to churn out fiscal support at the same scale as Germany, a pan-European response is also in the making. Joint fiscal plans are being proposed and stubborn political barriers being broken faster than we have seen in years – all pointing to genuine progress on the horizon. The US, on the other hand, is grappling with damaging civil unrest and fractious politics at the time it could do the most harm.
Crises tend to provide catalysts for change as underlying problems bubble to the surface. Back during the global financial crisis of 2008/2009, Europe's structural weaknesses were exposed, and European countries suffered as a result. The US, on the other hand – under decisive leadership – executed swift interventions and constructive financial reform, and ultimately fared much better relative to its global peers in the West. In this crisis, we are seeing the reverse. In Europe, there is genuine political will to pull together and find a way around the inherent weaknesses of the European edifice (i.e. little fiscal co-operation across countries) – and we are seeing progress that looked impossible only a few months ago. In the US, deep-seated inequality, racism and division are becoming plain to see.
This makes the European case look stronger by comparison. But we should not get carried away. There are reports that the US government may commit an additional $1 trillion in fiscal stimulus soon, and as quickly as November the political situation may look entirely different. Nevertheless, it seems clear that this pandemic has been a catalyst for deep tensions. While we welcome capital markets' forward-looking and optimistic stance, which certainly could be deemed justified under 'normal' circumstances, we would hope that that the catalyst for change that has sprung up will be mostly for positive change which speedily re-establishes that 'normal' which markets appear to be counting on.