New article from Tatton Investment Management: Markets are driving the markets
2 December 2019, 12:00am
It has been another quiet week in capital markets, which may be a surprise given the political shouting about the General Election. As we have written before, the recent rally in risk assets is at odds with the still slowing global economy, leaving many uneasy about potentially overvalued asset prices. For the moment, investors seem to be pondering where to go next. Bond markets have calmed down after a couple of weeks of volatility. Equities continue to edge higher and, in the US, have moved up to valuations not seen since the end of 2017 – when talk of 'irrational exuberance' was rife. This time around, markets are definitely getting ahead of the economy – investors are placing a lot of faith in global production and profits turning.
Some context. There is an adage that markets have just two emotions: fear and greed. These bouts of pessimism and optimism tend to come in waves that characterise broad market moves. The biggest swings in price happen when the overall mood is changing – as has been the case over the past eight weeks.
To be pessimistic is to "be prepared", to "batten down the hatches" and not be swayed by "false dawns". These phrases convey a good sense of how pessimism is not easily displaced. For these reasons, the initial stage of a market rally tends to be accompanied by words of warning and a sense of disbelief. This is understandable; after all, if the reasons for optimism were clear and obvious for all to see, the rally would be in full swing rather than just starting. But. Importantly, it can lead to missing out on key turning points.
The recent rally since mid-September is a good example. By a number of measures, pessimism about the economy was enormous at the end of last quarter. This was reflected in investment flows: retail equity ETFs (Exchange Traded Funds) saw huge outflows which extended all the way through October. This can be seen in the chart below, which shows how, this year, flows into bonds have vastly outstripped flows into equities (the bold black line is just a smoothed four week moving average of the blue line).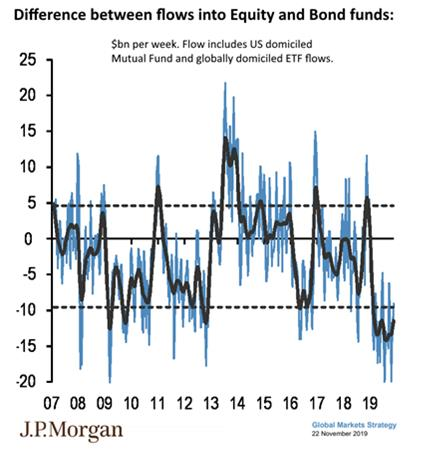 The data in this chart probably looks worse than it actually is, because it is not scaled by the enormous growth in ETFs. Still, it does show an indication of relative pessimism: investors were certainly feeling fearful.
And yet, all along, markets have only gone up despite there being no tangible improvement in the underlying economy. This should give heart to the bulls (those optimistic about risk assets), showing that equity markets can rally – significantly – without any change in economic fundamentals. Much of this is to do with the current set-up of the market. Investors are heavily weighted towards assets with very low returns. This is particularly true in Europe, where historically low bond yields have moved even lower. Even Italian bonds have now moved into negative yield, while Greek bonds have seen huge demand, compressing their yields to record lows. As we have written before, central banks are playing a huge role in this – successfully pushing up the money supply and leaving the financial system awash with cash.
But how sustainable is a rally with little or no economic basis? Well, the question might be a little ill-formed. For now, markets are jumping ahead of the economy. But moves in risk asset prices can cause changes in the economy – as a cursory glance at the global financial crisis could tell you. This link has always been well-known, but with the 'financialisation' of the last few decades, there is a growing belief that asset prices may well be the biggest factor for economic growth - a substantial part of this being down to the wealth effect from savers. So, the narrative goes, equity price rises lead to economic growth, which leads to earnings growth, which leads back into equity price rises.
That circularity, combined with the recent change in sentiment, has led to a sharp short-term shift in price-to-equity valuation ratios, particularly in the US. It could well be that the turn in global growth - that markets appear to be expecting - is in its very early stages, and that the rapid market moves are forcing the pessimists to capitulate. And it could easily run further because the narrative has to change, with the pessimists becoming optimists.
But we should not get ahead of ourselves. The market is still definitely in a fragile state. As we wrote last week, from talking to others you get the sense that no one is truly convinced by the current rally – despite the fact that most are buying into it. Because of that underlying fear, the longer we have to wait for confirmation – from positive economic data – that the upswing is truly in train, the more fearful markets will get. Helping to bolster optimism have been various political hopes: that "phase 1" of a trade deal between the US and China is close, that China is about to do another significant round of stimulus, that the UK will get more clarity on Brexit, etc.
One certainly does not have to be a complete pessimist to think that not all of those things are a given.