New article from Tatton Investment Management: Market sentiment rebound
16 September 2019
Last week, we wrote that equity markets would need to see an improvement in global economic growth if they were to move higher. So, it was typical commentator's curse that this week saw a rise in equities all over the world, despite no clear improvement in the underlying economic data. Even though we have not seen improvement yet, however, the rally suggests that capital markets see light at the end of the tunnel.
Certainly, the uptick in equities cannot have been due to company earnings. We saw an ever-so-slight pickup in earnings expectations for this year and the next – mainly for US businesses – but you would have to squint hard to see this as a trend. Rather, investors seem to have decided that equity markets have been right and bond markets wrong over the summer and now is the time to put their money to work – before the actual economic data improves and they miss the boat.
The current mismatch between market sentiment and company performance can be seen in equity valuations, which, despite mostly unchanged near-term earnings expectations, have moved back up towards recent highs. The economy has not changed, but confidence in it has. Or putting it in market terms, the majority of investors seem to have concluded that the gloominess emanating from rock bottom bond market yields over the summer was perhaps exaggerating the depth and tenure of the ongoing economic slowdown.
The question is, of course: is that confidence justified?
When looking just at indicators like business survey data, one would probably say no. But as we have pointed out recently, markets are increasingly having to take cues from politicians as well. The US-China trade war – one of the biggest concerns for investors for nearly three years – looks as though it may be cooling down. Equities reacted positively to the improved tone of discussions between the world's two largest economies. In particular, Trump's removal of former US National Security Advisor John Bolton – an unapologetic war hawk and China hardliner – was taken well. And sure enough, shortly after his departure from the White House, the Trump administration announced delays to scheduled tariffs on China.
Politically, the timing is looking better for a trade deal. Trump is desperate for good news to bring to the American people (his approval ratings are as low as they have ever been). And the continued weakness of the Chinese economy means Beijing will be eager to join the negotiating table.
Elsewhere, the political situation looks rosier too. The prospect of an imminent no-deal Brexit looks less likely, after Parliament closed down the 'easy' routes to a 31 October divorce. European political risks (Italy) have also subsided and there are continued rumblings of fiscal expansion on the continent – especially from the ultra-hawks - Germany. A call for looser European fiscal policy has come from Mario Draghi himself – who in his final weeks as ECB President has mustered just about every tool the central bankers have to boost growth through monetary stimulus, but noted their increasingly diminishing effectiveness in the absence of accompanying fiscal support.
Increased growth expectations certainly seem to have impacted the bond market, where yield curves (the plot of a governments' bond yields at different length maturities) have been steepening rather than flattening for the first time in months across the world. Perhaps equity markets are taking signals from the bond market – rather than politics or underlying company or economic data. The rise of bond yields this week probably also had a lot to do with the record-breaking issuance (capital raising) in investment grade bonds, and a much quieter (but still significant) issuance in high yield debt. All of this could be good news for equities, as the proceeds will go some way to funding dividends (and share-buybacks!).
It would be better for the underlying economy, however, if that abundant capital was used to fund productive business investment. Until that happens (or until governments take the responsibility on themselves) it is hard to see a way toward a re-acceleration of global growth. Economic data has stabilised somewhat, but there are signs that businesses are struggling to re-invigorate profit growth. Producer price inflation (PPI) is usually a good proxy for company profitability, and it has been lagging recently.
Nowhere is this more apparent than in China. Chinese PPI – a key signal of company pricing power – came out negative year-on-year for the second month in a row, with a reading of -1%. This is a worrying sign, and it is hard to see how it would improve in the short term. The importance of China here should not be understated. When Chinese companies have an overcapacity, they push that excess stock out to the rest of the world – creating a global oversupply and subsequent drop in prices. This creates a deflationary environment which severely dampens growth prospects. Particularly vulnerable are European producers, which creates a knock-on effect.
The chart below shows our measure of average producer price inflation for the world's top 10 nations by nominal GDP. China is the most influential component and the second largest. It dominates the average not only because of its size but because it is the major competitor, essentially driving the pricing power of the other. What the dispersion measure shows is that more nations than ever are now being affected by the Chinese lack of pricing power. National PPI measures have declined in unison since the start of the year.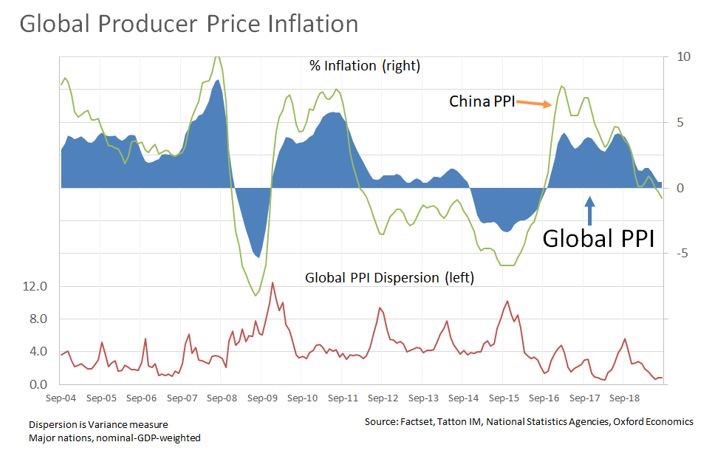 Fortunately, Chinese government officials are acutely aware of this. And given the ongoing difficulty in the domestic economy, they are determined not to let the downturn get worse. Officials in Beijing have already loosened fiscal and monetary policy and taken measures to support consumer demand and small businesses.
What's more, next month marks the 70th anniversary of the People's Republic founding and will see a hugely important central party plenum take place. For investors, this is good news. The government usually lends heavy support to the economy around important dates and events, and has already showered traders with 'gifts' such as lifting barriers on foreign investment, cutting banks' reserve requirement ratios and fixing the RMB's daily trading band at a higher-than-expected level for 17 days. Ever since 2004, the month leading up to big anniversaries has seen the Shanghai Composite Index increase by an average of more than 4%. All of this has made Chinese shares the world's top performers recently. According to chief strategist at Bocom International Holdings Co. Hao Hong, "Authorities will definitely try to maintain order, and the bottom line is we're unlikely to see any big declines,"
Whether that will translate into a sustained pickup in the economy, however, is another matter. We are in a delicate balance, with supportive policies and high political hopes on the one side, and the reality of struggling businesses on the other. But for now at least, the fact that markets think that high hopes will win out is a positive sign.
For the time being we are pleased that 2019 investment returns continue to build up well for our investors. (See August asset class table below and positive start for September, bar bonds) . However, as the market sentiment roller-coaster over the summer months has shown, the returns picture will remain volatile until it becomes more evident that improvements in risk asset valuations are founded on actual earnings improvements through economic growth, rather than on hopes and dreams that politics will finally end its sabotaging of the economy, and that the ongoing slowdown is just that, another mid-cycle slowdown and not the beginning of the end of this long-in-the-tooth cycle.