New article from Tatton Investment Management: Fast and freewheeling
13 July 2020, 12:00am
As they have for most of the year, pandemic developments dominated the economic news flow this week. Though restrictions continue to ease here and in Europe, the virus is now spreading at a quickening pace in the US, from the previous hotspots in the north-east to the south and west. That renewed virus threat is undoubtedly impacting the economy once again – just five weeks after the US began to open up. The high-frequency data (tracking daily movement, travel and leisure purchases, etc.) are showing a drop in economic activity, as one would expect. JP Morgan's research showed the charts below, with credit card spending flat-lining and the US rush-hour now the most impacted across nations. Of course, we should be careful when looking at these sorts of data. As one can see, Germany also seems to be registering a pullback without any suggestion that they have any significant resurgence in virus cases:

Global stock markets sold off in the early stages of the pandemic when cases began climbing rapidly. In the US, the virus is now spreading at a significantly faster rate than back then. And yet, equities continue their impressive rally. The tech-heavy NASDAQ, for instance, is breaking its all-time highs.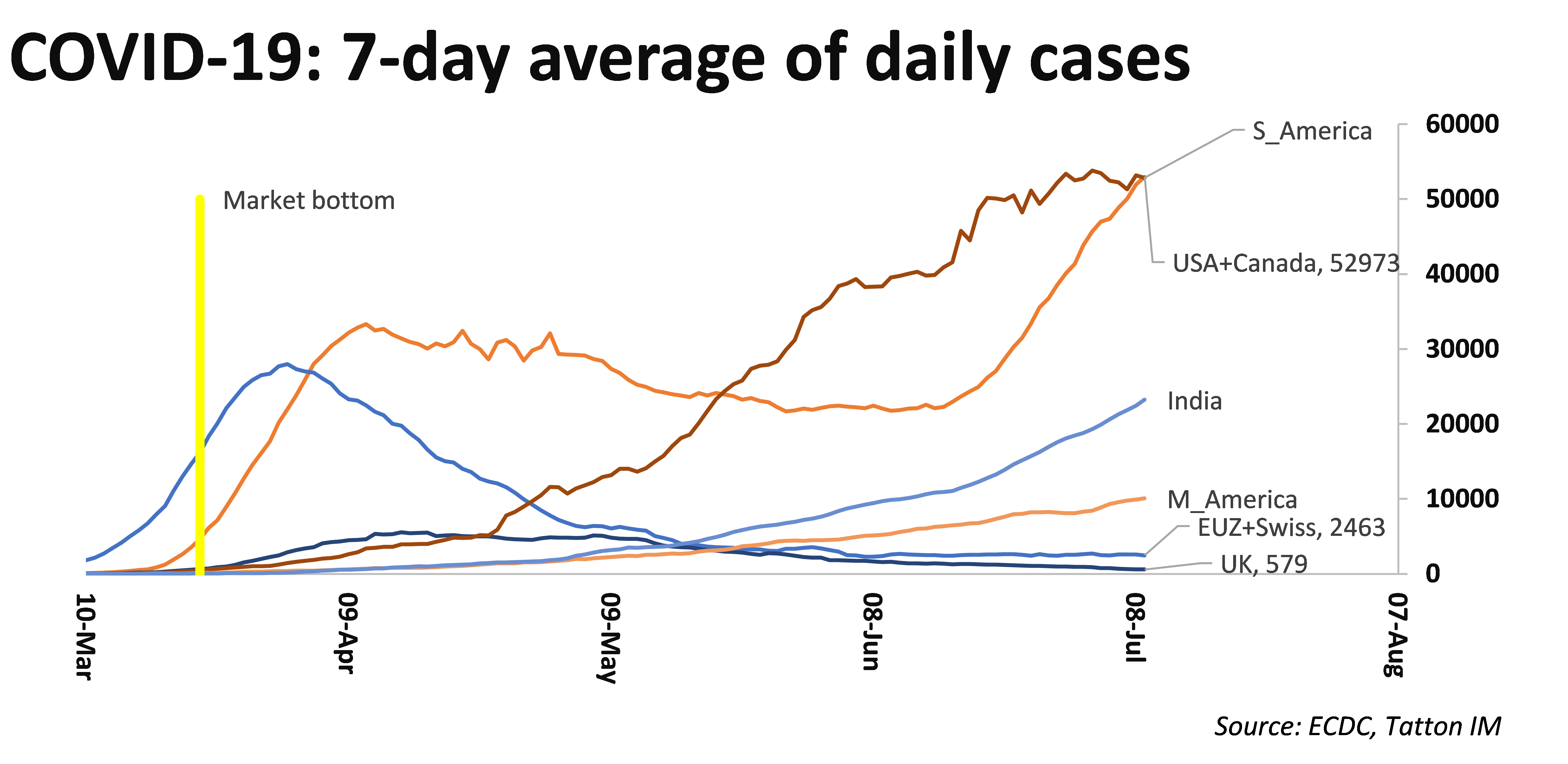 Why? As we have noted before, the answer seems to be liquidity. On top of the extraordinary measures being rolled out from central banks, US retail investors appear to have amassed a lot of savings throughout the pandemic, and many of them are putting their money to work in stock markets. They have gone for the recent winners, particularly in the big-tech sector. Amazon and Tesla stand out in nominal cash terms, but even smaller companies in the lower echelons of the NASDAQ Composite are seeing a lot of trade. Indeed, when looking at the volumes of shares traded (numbers of shares rather than their value), the levels are returning to the heady days of the dot com era.

Politicians are also doing their part to support sentiment. Donald Trump has a history of talking up the market, but he's nothing compared to China's authorities if this week is anything to go by. On Monday morning, the state media outlets joined in a chorus of cajoling: Shanghai Securities News ran a story entitled "Hahahahaha! The signs of a bull market are more and more clear" while others talked of a "healthy" bull market and that investors could (not might) look forward "to the wealth effect" of higher prices. The CSI index rose 5.7% on the day and rose each day until Friday's 2% fall, peaking at +8.7%.

Perhaps this was in response to foreign selling across the past month, following China's effective removal of Hong Kong's autonomy. As the Financial Times pointed out, it brought back memories of 2014 and 2015, when state media cheered a more than doubling of stock prices. That rally later unwound in spectacular fashion with a 40% collapse.

Indeed, this form of action does not suggest that China is responding to international pressure with conciliation. In itself, it's not an aggressive act, but it is a very visible show of internal strength. While we don't think there is an immediate issue for international investors, the danger remains that politics gets in the way of the free flow of capital.

Copper has continued its push higher this week, helped by the moves in China, and is a good sign for the global economy. However, wariness about US domestic demand has been affecting other markets. Prices of government bonds and gold moved higher, while small and mid-caps struggled.

Part of this easing in optimism may come from perceptions that governments are becoming less willing (or less able) to support economies. The US faces the prospect of a sharp retrenchment if time-limited measures are not renewed by the end of July, but there is a clear market consensus that there will be a new package. However, Treasury Secretary Mnuchin said the administration will push for narrower support in the next two weeks. For us, the biggest issue revolves around spending undertaken by individual states rather than the federal government. Politics really comes to the fore here, and Trump seems to be prepared to push Democrat-led states into real problems, ones that will actually affect the overall economy. November's ballot is also about the Congressional elections, especially the fight for control of the Senate. A third (33) of the seats will be contested and control may swing to the Democrats if things go very badly for the Republicans.

We talk about the Chancellor of the Exchequer's "Plan for Jobs" in the article below. UK large-caps wilted in line with the dwindling growth optimism, but sterling staged a mini-rally, a signal that the package got a small thumbs-up.

We also take a look at Japan in a separate article. Japanese government support has been large but monetary support has been less apparent. The Bank of Japan (BoJ) meets next week, although few think it will come out of its shell. The Governor did, however, make some concerned noises this week, so we there is a chance of a positive surprise.

As we head towards the holiday months, market remain more volatile than normal, but that volatility appears to ebbing slightly. Nonetheless, risks remain elevated. The reporting season for the end of the second quarter will get underway in earnest next week. It's been notable that analysts have started to edge their expectations down again in recent days, which hasn't helped valuations. Let's hope that the awful pick-up in US virus cases turns around, for their and all our sakes.