New article from Tatton Investment Management: Equity valuations follow bond valuations' lead
22 June 2020
A new normal
After a wobble last week, capital markets have stabilised again. Global stock markets have not quite regained their previous highs, but seem to have found a level, trading sideways since Tuesday. For onlookers though, risk asset prices probably look anything but stable. Economic activity is plummeting around the world, deep-seated social problems are rearing their heads and geopolitical tensions are flaring up every day. But in the midst of the chaos, equity markets have soared. Stock valuations – in terms of price over earnings – are now at their highest since the dot-com bubble 20 years ago. How can markets be so stable when they seem to be on a tightrope?

As noted many times over the last few weeks, these eye-watering valuations are due to the combination of extraordinary central bank measures and high demand from retail investors flooding the financial system with liquidity. And liquidity flows into whatever gives investors the best bang for their buck, which in the current environment, is equities. With central banks busy buying practically unlimited amounts of government bonds, leaving their yields non-existent – equities even with their measly dividends relative to pre-crisis levels – look more attractive by comparison. Or to look at it from a different angle: What drove bond yields down and bond values up during the post Financial Crisis rounds of quantative easing, is now doing the same to equities – rising stocks are lowering the earnings and dividend yields of companies relative to those higher capital values of stocks – equalising them back down towards the historical spread between bond yields and stock returns. So, as long as investors do not expect a total loss of capital – through mass defaults – markets should avoid the nosedive we saw in March.

The problem is that mass defaults are precisely what people are still worried about. Businesses are scrambling to survive the lockdown, and almost all of their contingency plans involve laying off huge numbers of workers. This is where global government policy comes in – plugging the gap between now and normality with huge spending sprees, and central bank printing presses have given them carte blanche to do so. Some governments – notably in Europe – have even added long-term fiscal investments into the mix, to see their economies not just out of the pandemic but beyond.

We expect similar fiscal policies to follow here in Britain, backed up by the £300 billion bond purchases pledged by the Bank of England (BoE). We cover this in a separate article below, but should note that not everything in the BoE's announcement pleased markets. It said its purchase program would finish by the end of the year, leading to market pessimism on the UK economy and a subsequent sliding of sterling against the US dollar.

That downward currency move is significant. Theoretically, debt monetisation – where a central bank prints new money to fund government spending – should decrease the relative value of a currency. But in the current environment where almost every central bank is expanding the domestic monetary base, markets are now rewarding those currencies whose central banks are effectively funding unlimited spending and punishing those whose banks are not. That is, central bank monetisation is currently seen as a positive by capital markets.
On Wednesday, US Federal Reserve (Fed) chair Jerome Powell appeared before US Congress and pushed them to spend more to help unemployed Americans and small businesses. He noted that the US economy is in a "critical phase", and any additional fiscal support would be crucial. Powell said economic rebound is underway (as evidenced by the bounceback in employment numbers last week) but that output and employment levels are still well below pre-pandemic levels. As such, the Fed's $2 trillion in asset purchases are "precautionary" in case the economy weakens again.
Meanwhile, the US Treasury is taking full advantage of the Fed's blank cheque, building up a cash reserve of $1.5 trillion, shown in the chart below. If things take a turn for the worse, the Treasury should have enough firepower to see the economy through.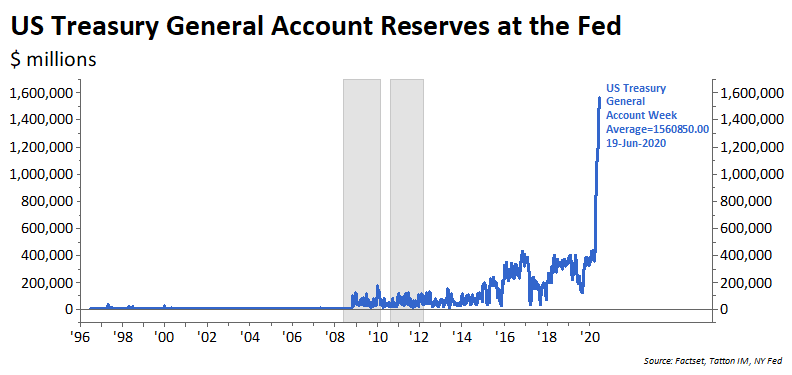 This may present some issues for how the Fed will manage general liquidity in the financial system, but the fact is that this cash will get spent. In July, various income support programs in the US are scheduled to end. But in spite of the recent improvement in jobs data, the lingering virus threat should give policymakers more than enough reason to extend these programs.
The danger here is that there may be some pushback from politicians – particularly the 'balanced budget' minded conservatives in Washington. Recent regional purchase manager surveys for Philadelphia and New York suggest businesses are feeling relatively sanguine about the current recession – hoping it may prove sharp but short.


Ceasing spending programs now would be a dangerous game, and for seemingly little reward. As mentioned above, markets currently view fiscal spending sprees as a positive. And given an election is coming up in just five months – we suspect there will be little appetite to curb government spending now.

The fly in the ointment for all this comes from geopolitical tensions, which continue to intensify. This week, a border clash between Chinese and Indian forces made headlines and will likely only increase the anti-China sentiment in Washington. The US Congress has over 300 anti-China bills with bipartisan support waiting to be passed, and skirmishes on the Himalayan border will not help the situation.

As we see it, this is the main downside risk for China specifically. Beijing is aware that a weak global economy means weak demand for their exports, and as such have tried to stimulate their domestic economy. Fiscal policy is a crucial part of this, but unlike other central banks, the People's Bank of China (PBoC) is extremely wary of money printing. Its preferred tactic is to allow banks to lend more by lowering their reserve requirements. But this approach has its limits. Banks do not want to be liable for lending mistakes – particularly if economic activity is weak – and so the transmission of money will be more muted. Chinese stocks did well off the back of the PBoC's announcement, but the medium-term benefits are looking more limited than elsewhere. Given our previous positivity on China, this is a story that continues to deserve close attention.

Overall, we understand the 'valuation vertigo' investors may be feeling, but stress that a sustained downturn can only happen should the underlying reasons for those valuations change. At the moment, we see nothing to suggest that is likely. But even without a storm on the horizon, the waters may still be choppy from here. US markets are on the cusp of the June expiry for stock index options – an event which can spark market volatility. Given the uncertainty and fear around, short selloffs and quick recoveries could be in store over the next few weeks. Our suggestion is to ride them out for as long as broader financial conditions remain supportive.