New article from Tatton Investment Management: Dark times or glimpse of light at the end of the tunn
9 March 2020
Since our last update a week ago, market dynamics have developed very much along the lines we outlined as our expectation. The US Federal Reserve has taken the lead and lowered US interest rates by 0.5% to provide additional monetary stimulus to counter the economic pressures the virus containment actions inflict on economic activity levels worldwide. Western governments have not only taken decisive steps to prevent an uncontrolled spreading of the virus, but are also standing at the ready to mobilise fiscal spending programs to get the global economy back on track, once the worst has passed.

Stock markets in the meantime have done precisely what we suggested and have ricocheted wildly between recovering stunningly, falling precipitously and recovering again, thereby providing the financial media outlets with plenty of headline-grabbing record numbers.

Normally an impressive new non-farm payroll jobs report in the US would be greeted jubilantly, but Friday's announcement that an impressive 273,000 jobs were added in February simply served as a reminder that so much has changed since then. All these backward-looking numbers prove is that employment was in good shape before the pandemic took hold.

As we wrote last week, when a disturbance like the COVID-19 stops being faraway or abstractly economic, rational considerations and impact assessments go out of the window as the disturbance turns into an exogenous shock, resulting in the overwhelming emotions of greed and fear taking control. At the time of writing, markets are experiencing another wave of downdraft, despite the economic data flow surprising on the upside – at least regarding the position the global economy found itself in before the virus fear took grip of everybody's' imagination.

In those tumultuous moments we – as a matter of principle – take a big step back from the noise and look at the bigger picture. From that vantage point, we observe the following:

Capital markets are correct in taking the virus impact as a global challenge, rather than a regionally isolated affair centred on China, as was previously assumed. As our chart recording the growth of infection cases below shows, it is symptomatic for this virus epidemic/pandemic, that once the number of confirmed infections goes above a certain threshold, the increase becomes exponential. In other words, the spread of the virus cannot be contained through quarantining, but only slowed through social distancing, as the slower rate of increase amongst the Japanese society appears to prove (bowing, instead of hand shaking).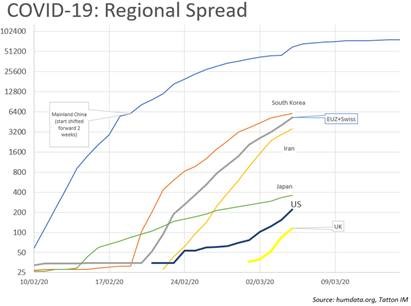 While this may feel disheartening or even alarming to our predominantly UK audience, it does explain the rigorous action plans and preparations that governments across the western world have put in place. They are not overreacting but rather doing all they can to ease the inevitable pressures their healthcare systems will come under, by trying to spread the impact over time.

This is where the first positive point comes in. As can be seen from the chart above, new infection numbers in both China and South Korea have flattened markedly after a certain time period had passed (note that the China graph above was shifted forward two weeks to keep the chart visually compact). The same appears to be true for fatalities. There are a number of possible explanations for this, ranging from populations learning how to reduce further infection through social distancing, - to a limited pool of infirm who get struck by this illness (which is not dissimilar to seasonal flu), the difference being that COVID-19 is affecting people not over the whole winter, but all at the same time. There is even the possibility that China's health professionals may be beginning to have success with the application of various existing antiviral drugs they have been applying on a compassion-driven 'trial and error' basis for more than five weeks now.

From this perspective, the extent and length of disruption to economic activity – and travel – that capital markets have begun to price into risk assets may already be an example of overshooting to the downside.

The other positive to consider is the concerted stimulus action that is possible – and becoming evident – in the face of a common global threat. Politicians, in predictable fashion, never 'let a good crisis go to waste' and even the most fiscally conservative governments – like Germany or the Netherlands – announced over the week that they are standing at the ready to mobilise many tens of €-billions of fiscal stimulus support to get their disrupted economies back on track. Let us also not forget that China has already started its stimulus programs and the Trump administration will quickly follow suit if required. Neither the US or Chinese governments can afford their nations to suffer any more than a very short-term economic downturn as they both face crucial political events over the coming 9-14 months.

So, paradoxically, the worse the interruptions in the short term, the larger the stimulus package and thereby 'economic fuel' further down the line, later in the year and next. From the perspective of long-term investors, this means that beyond the horrible cost of human lives, this virus epidemic may have just extended the already extraordinary life-span of the underlying long term economic cycle, beyond the usual 18 months which economists otherwise never dare to look beyond.

Undoubtedly, the coming weeks will be unnerving and volatility in valuations of personal investments will add to this. We would therefore strongly suggest focusing on one's personal wellbeing, and not the very short-term ups and downs of long-term investment strategies. As we showed in last week's updates, viral epidemics and their economic impact have historically always passed and led to a stronger economic environment thereafter. This even applies in the case of the Spanish Flu of 1918, which was the worst of all global epidemics (and far more aggressive than COVID-19), and hit Western societies when they were at their weakest following World War I.

As the old adage goes: 'history may not repeat itself exactly but it always rhymes'. Attempting to gain from the heightened volatility is the reserve of the bravest and most risk- tolerant market punters. In contrast, those who in the past have stuck to their long-term investment goals and strategies have ultimately been rewarded with consistent and still very rewarding returns, even if the journey at times feels uncomfortable. The most recent example came just over 10 years ago, when there was ample opportunity to yield during the darkest moments of the crisis, but those who stayed patient were rewarded over a relatively short time period