New article from Tatton Investment Management: Can Trump derail the 2020 economic upturn?
8 December 2019
Capital markets have yet to enter into an early festive spirit. The first week of December made for a bad start in risk assets. As we have written before, expectations of future US-China trade relations are vital to market sentiment – and this week we saw a blow in that regard. President Trump indicated that a trade deal between the world's two largest economies might have to wait until after the presidential election (November 2020). Markets on the other hand (when judged by equity valuation levels vs. actual profit growth) have effectively priced in a deal in the next few weeks or months.
That disappointment will sting, given the current economic backdrop. We wrote last week that markets appear to be 'frontrunning' the economy by pricing in a more imminent recovery from the global economic slowdown than the economic data flow currently suggests. Equity valuations have risen close to where they were during the heady days of late 2017. Sure enough, stock markets around the globe fell 2-3% at the beginning of this week – testament to the fact that investors are feeling a little nervous about their optimism.
The year-end can make for a rather odd time in capital markets, as tighter liquidity conditions and the 'Santa Rally' phenomenon tend to drive returns more than underlying fundamentals. In particular, investment managers who may have missed out on the rally during the rest of the year often feel the need to join in. At the opposite end are investors – often institutional – who either have a requirement to hold specific cash levels at year-end, or are inclined to 'bank' the year's returns by crystalizing the gains. There are reasons for both positioning motivations, as it has indeed been a good year: Investors with globally diversified investment portfolios should have seen double-digit returns in 2019 – all barring those with the lowest risk profile.
Beyond the Trump-induced 'market wobble' (which was on the way of recovery by the weekend), one of the more interesting trends of the week was the strength of £-Sterling, despite (or perhaps because of) next week's election. For the last three and half years – and perhaps before that – currency valuation has been the primary method through which investors express their expectations on Brexit (their 'Brexpectations' if you will). The likelihood of a harder Brexit has forced sterling lower, while the prospects of a softer Brexit have driven it higher. But on the face of it, the current sterling rally has to do with the increased (implied) likelihood of a Conservative majority – despite Boris Johnson being the hardest Brexiteer of all major party candidates.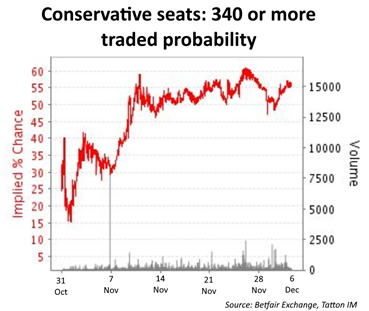 The theory is that, with a sizable majority, Boris Johnson will be able to pursue a more pragmatic (softer) Brexit than some on the fringes of his party would prefer. There is perhaps some truth to this. But we believe a better explanation is the growing risk appetite among global investors. With investor risk appetite firmly returning, high-yielding assets are now in high demand, and UK credit and equity fits that bill. Since the 2016 Brexit referendum, British assets gradually became seriously undervalued compared to their global peers, so the general brightening of markets' global economic outlook has benefited them more than others. Perversely, the largest capital flows into British assets seem to be coming from European investors, with sterling's rally against the €-Euro outpacing its US-Dollar gains.
Brexit is still the spanner in the works for any potential sustained rally of UK risk assets, however. Oddly enough, the binary outcomes of next week's election (large Tory majority versus a hung parliament) are more positive on that front than those in the middle (a small majority or minority Tory government) given that the latter are the only outcomes where the Tory Brexiteers have much power. But given that we will know much more about this next week, we will refrain from delving into it too much. What we do expect is that – even if we get a surprise result of a hung parliament – any market volatility should be brief, as it was after the 2016 referendum. The inevitable compromises that would result from that would likely dawn on investors as a positive, at least as far as a pragmatic Brexit is concerned.
Taking a more global view, there is still a lot that could upset nervous markets. President Trump's preoccupation with impeachment and re-election is a negative for the global trade picture. So too is the news that Chinese tech giant Huawei could be shut out of western payment systems. The US Congress is also following up its Hong Kong Human Rights and Democracy Act with an Uyghur Act against China's human rights abuses in Xinjiang. These are obviously important issues, but they dampen any prospect of a trade deal between the US and China – investors' biggest concern.
But the muted market reaction to Trump's "couldn't care less" trade deal attitude is revealing. As we wrote before, positive economic data needs to come through sooner or later to support the ongoing risk sentiment. And this week there were (tentative) signs that it will. The market expectation that 2020 will see a return of increasing growth rates across the global economy is increasingly supported by the dataflow. This will provide support for risk asset valuations, but will be bad news for safe-haven investments like government bonds – as lower levels of fear, together with a return of inflation pressures and growth prospects, make their meagre yields more painful to accept.
Global trade has indeed been hurt by Trump's trade wars. But the near-term resolution which markets were looking for may not even be needed now. If the sentiment-driven rally in risk assets morphs into a data-driven rally, we can have more confidence that it is sustainable. On this front, we take heart in some improvements in the autos sector – the previous laggard for all of this year. Current data indicates a running down of manufacturing inventories in Europe and Asia, suggesting a rebound in demand. This is in an early and fragile state, but it is a positive nonetheless.
As we have written before, the Christmas shopping season will be vital in showing markets whether their faith is justified. Seasonal effects make economic performance hard to judge around this time, but markets will be expecting an uplift, not a 'Scrooge Christmas'. We will have to wait and see. In the meantime, the next couple of weeks could be choppy for markets.