New article from Tatton Investment Management: £-Sterling 'applauds' prospect of Brexit delay
4 March 2019
The last week of February was void of significant economic or monetary market drivers, which left global investors to observe the political news-flow. The US President and UK's Theresa May were therefore quickly identified as the cause of the two more significant market actions: The UK's £­-Sterling rallying to levels not often seen since the fateful Brexit referendum in 2016, and China's stock market recording a 6% advance on Monday which propelled it decisively into bull-market territory with its near 25% gain since January.
The jump in the UK's currency is renewed evidence of how little capital markets are looking forward to the UK leaving the EU. It took no more than the mere prospect of a temporary delay of the Brexit date to lead to an appreciation of everything priced in £-Sterling. Although most probably it was a combination of an even lower probability of a No-Deal Brexit and an expectation that any delay will lead to softer-than-anticipated terms of divorce. What is not so clear is whether market participants realise (and have therefore priced in) the fact that even if the May government's deal was somehow passed by a majority in Parliament, uncertainty over the eventual terms of trade would remain during the two years of ensuing trade negotiations.
The appreciation of the UK's currency and thereby national worth is a welcome sign of approval from international capital markets that most of the UK's political class now appears determined to avoid a disorderly Brexit. However, the negative effect it had for UK- based investors put a slight final week dampener on otherwise quite favourable February asset returns as shown in the table below. As the value of the domestic currency rises, the value of any holdings in other currencies has to necessarily decline. Unfortunately, this also holds true for many of the UK's largest stock market quoted companies as much of their ongoing revenue is generated outside the UK. In what was otherwise a quiet and unremarkable week in the main global markets, we saw the value of the UK's FTSE decline, as did investment portfolios (in £-Sterling terms) with investments overseas. But as the table below illustrates this was not enough to reverse the overall positive trend of February which thereby marked the second month in a row with positive returns. Not quite enough to erase the 2018 disappointment, but at least taking risk assets back to levels which will turn many 12-month views positive.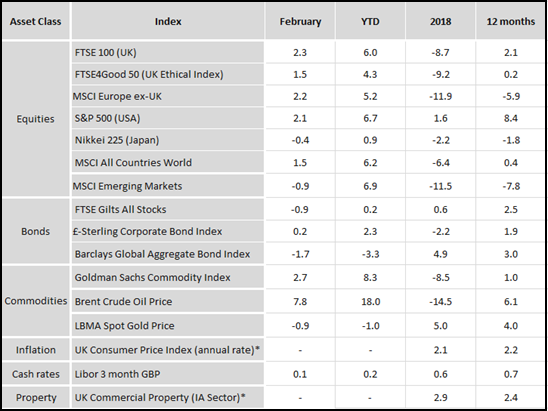 Source: Morningstar Direct. * to end of previous month (31/01/19). All returns in GBP as per 28 Feb 2019
As for US politics, there are increasing signs that President Trump will push for a trade settlement with China in the near term, even if that means a compromise here or there. It was perhaps because this potential success story was within his grasp that he was willing to play hardball with North Korea's leader and dictator. While both sides were keen to dampen any fears that the failure of these negotiations would return the world swiftly to the geopolitical tensions of a year ago, India and Pakistan did everything to remind the world that the Korean peninsula is not the only military hotspot on the planet. With India in the midst of a national election campaign this is certainly one to be watched, especially as the slowing Indian economy will deprive the governing party of a strong base from which to promote its re-election.
After two months of positive returns, but also persistently slowing global growth momentum, it is reasonable to expect that March will see the return of increased levels of market volatility. Following the recovery rally and with reducing expectations of future corporate earnings growth there is now less upside in equity markets. What is therefore needed is some positive news which will brighten the economic horizon once again. The past week's upward surge in both the Chinese stock market as well as the UK's £-Sterling provides evidence that market sentiment is receptive to a more positive political narrative. With global economic conditions in 2019 proving much more stable than expected at the end of last year, one has to hope that politicians understand and grasp their potential for a positive impact on near-term economic prosperity and begin to act more constructively than of late.