New article from Tatton Investment Management: Swilling cash eases the market mood music
18 November 2019, 12:00am
As the electoral machine whirrs on here, global capital markets have had a comparatively quiet week. The resurgent optimism of the last few weeks has waned somewhat, without turning around. But the US's S&P 500 is still sitting at an all-time high, which may well be due to private equity funds: they are awash with cash and have had difficulty finding unlisted targets that are profitable enough.

The move by KKR (formerly Kohlberg Kravis Roberts & Co, one of the private equity giants) for Walgreens Boots suggests that they are having to turn to the less preferred route of taking large listed companies private. That's risky in execution terms, but at least utilises larger blocks of that cash (even though a large proportion of the buyout funds will be borrowed). They also tend not to be so dependent on the near-term underlying economic background (because they take so long to organise and execute), perhaps underpinning markets against soggy economic data.

The drip of private equity leveraged buyouts of listed firms has yet to become a flood, but mergers and acquisitions like these tend to set a trend, helping the equity market in general, and the recently so unloved "value" stocks in particular.

Despite this positive, stock market indices around the world traded mostly sideways throughout the week. As for why this is, we turn to the usual suspects.

The latest indicators show that the global economy is still sluggish, with growth slowing yet again. As we wrote before, improving market sentiment in previous weeks implies that investors are betting that the current global economic slowdown will turn around soon – but they have yet to be vindicated by hard evidence through the incoming data. The longer it takes for improving data to appear on the horizon, the more nervous markets will get.

As usual, that situation could be helped or hindered by politics. Here in the UK, the General Election and what it means for Brexit are all-consuming issues. But for global investors, a bigger worry remains the US-China trade war. Trade relations between the world's two largest economies actually gave markets some hope last week, as both sides agreed in principle to a removal of tariffs in phases. But those hopes took yet another beating this week, with Donald Trump showing his erratic side again and threatening further tariffs. What's more, the worsening situation in Hong Kong – where political protests have paralysed the city – dim the chances of a deal happening. We cover this issue more in a separate article.

Our other article this week focuses on the UK economy and what effect the next government could have on it. According to betting markets, that government will probably be a Conservative majority – currently with implied odds of around 66%. The Tory party has been helped by a number of developments this week, including the UK avoiding a technical recession (only just, see article below), a withdrawal of Nigel Farage's Brexit party from 317 constituencies and well-publicised criticism of the opposition Labour party. In the shorter term, currency markets have reacted positively to this development, with £-Sterling receiving another upwards boost. It would seem that capital markets have flipped their preferences from Brexit avoidance to an end of uncertainty, even if this comes at the price of an end of frictionless trade.

In other market news, the bond market has had a volatile week on the back of some interesting moves by central bankers. The Bank of Japan opted not to cut interest rates at the end of October, and this week refrained by boosting bond purchases, thus steepening the yield curve (the difference in bond yields across different maturities) by allowing longer term rates to rise. Meanwhile, Federal Reserve Chair Jerome Powell signalled to a congressional finance committee that US interest rates will not come down if growth remains stable. The most interesting aspect of his speech was a hint that, if growth instead rose, rates would not rise to meet it.

We still have yet to hear from Christine Lagarde in her new capacity as European Central Bank President, but she has already been vocal (as many other central bankers have recently) about the need for looser fiscal policy. We suspect that the policy of steepening yield curves to help banks and increase the credit flow to the economy has won the debate among developed market central bankers. A proactive fiscal policy from governments would go hand in hand with this.

If that does happen, prices of longer maturity bonds will come under pressure (as rising yields means falling prices). But central banks may be unable to enact this policy if the global economy slides further downwards. And that uncertainty is inducing bond market volatility, particularly with economic data coming in so varied.

Turning elsewhere, we have recently heard from many fund managers that they are bullish about emerging markets. Part of the general thesis is that the US dollar has reached the end of a strengthening trend, and emerging market currency stability is allowing their central banks to cut domestic interest rates, which will support local economies.

Maybe. Indeed, there have been a large number of rate cuts in the past three months, and Mexico's central bank lowered borrowing costs (for the third time this year) on Thursday.

Unfortunately, the timing may not be auspicious. Treating emerging markets as a bloc tends to gloss over the specifics, and each area appears to be under pressure from its own internal fragilities, especially around domestic finance systems. As has happened before, these problems have been exposed by the general fall-back in global growth.

EM risk assets have had a bad week following the previous week's bout of optimism over the US-China trade deal. Latin American currencies fell again on Friday, the ninth consecutive decline, as broader risk sentiment took a hit from weak economic data.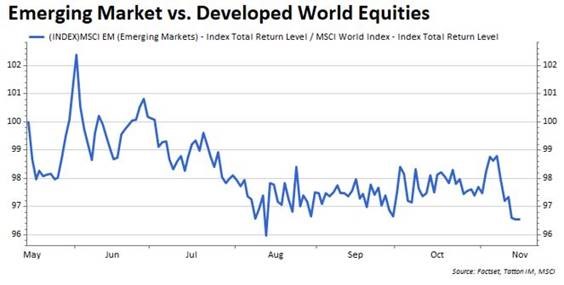 In China and India, the domestic banking inadequacies are creating credit crunches for small enterprises. Reforming their banks will be a long slow process.

Some of the worst problems are in the "LatAm 6". Moody's now estimates that the area comprising Brazil, Mexico, Argentina, Chile, Colombia and Peru will register growth of just 0.7% in 2019 and 1.7% in 2020, well below the global growth trend. While some cyclical pick-up in private investment is expected across South America, a limited supply of domestic savings raises the cost of internal capital, meaning sources of investment will be hard to come by. Meanwhile, worker productivity is falling, continuing the trend of the last five years. Each country also has its own social and political issues to contend with, such as damaging drug cartels in Mexico, widespread protests in Chile and ongoing political scandals in Brazil.

One can indeed make the positive macro-economic case for emerging markets. But this is only a convincing investment argument if it comes with a reason why the multifarious issues facing individual markets will not get in the way. One such reason would be the combination of a weakening US$ and resurgent global trade conditions. And on that point, we are not yet convinced.