New article from Tatton Investment Management: Crucial October period safely behind
4 November 2019, 12:00am
October has ended: time to take stock of market and portfolio returns. In general, stock markets nudged up further while government bond yields recovered, eroding some of bonds' earlier valuation gains. For UK investors however, the roughly 5% gain of £-Sterling against other global currencies for once lowered the value of overseas investments and also put the overseas income-heavy FTSE under pressure. The end result was a flattish month where the overseas spending power of investors improved without particularly undermining their portfolio valuations. Year to date, 2019 continues to have been a good year for investment returns across all risk profiles, recording single to low double-digit figures with increasing levels of equity exposure. Despite October's dull returns, the one-year figures have improved markedly into positive territory, due to the base effect of last year's negative Q4 returns.
Historically, October is a month that more often than not has brought disappointment to risk asset investors. So there was a notable sigh of relief when the month ended without any major market upset.
This was despite central banks and politics providing ample opportunity to upset the proverbial apple cart. Central banks, as regular readers know, played a major role in 2019's positive return revival: their volte-face – from monetary tightening back to easing – improved market sentiment and catapulted market valuations upwards from their pessimistic levels. The US central bank's end of month rate decision and outlook statement was therefore very closely watched and anticipated, as there was the potential for an unbalanced announcement once again affecting sentiment. As it happened, the US central bankers seem to have been spot on with their actions and words.
The FOMC effectively managed to deliver a far more hawkish message than would have been acceptable to stock markets only a few months ago when a further series of rate cuts was priced in. While cutting rates a further 0.25% (as expected) to 1.5%, they also made clear that the series of 'insurance' cuts to aid the fragile economy has come to an end – for now at least. The slowing, but clearly not recessionary US economy is not struggling enough to warrant further monetary easing.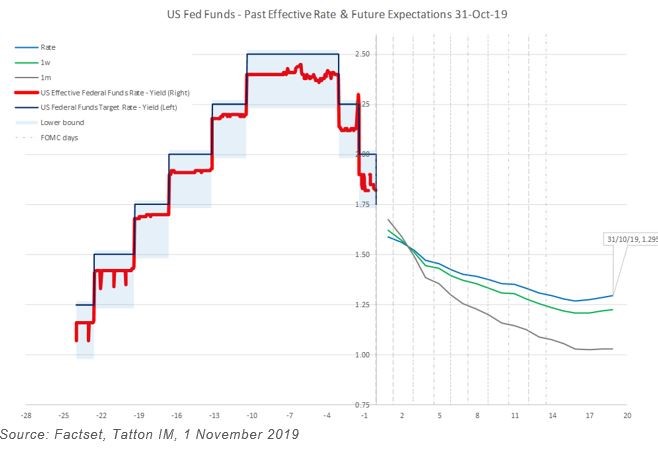 Market reaction was very muted, which most likely means the Fed succeeded in wording the statement such that it contained no particular surprises, after forward-pricing measures had already indicated that markets now expect just one further rate cut rather than three (see chart above).
The other part of this 'central bank' week was the passing of the baton at the European Central Bank from "Super" Mario Draghi to Christine Lagarde, former head of the IMF and the first ever female finance minister of any G7 country (France). Madame Lagarde fulfilled expectations even before she formally took control, when she said in a speech that there "isn't enough solidarity" across the Eurozone, adding "Those that have the room for manoeuvre, those that have a budget surplus, that's to say Germany, the Netherlands, why not use that budget surplus and invest in infrastructure? Why not invest in education? Why not invest in innovation, to allow for a better rebalancing?".
You may have read it here first and so may not be surprised that the 'ice' of fiscal austerity is slowly beginning to melt. Continental Europe has far greater 'fire power' in this department than the Anglo-Saxon world.
Whichever way we look at it, the doom and gloom of the 'inverted yield curve' that we commented on during the summer has lifted – whether this was central banks' doing or a more fundamental change in market sentiment as the growth slowdown appears to be troughing and governments warm to the idea of investing into their economies' productivity potential. It is most probably a result of both and the 'fear-of-fear' factor receding is an undeniably positive for market sentiment at a time when central banks are signalling that further rate cuts will probably do more harm than good. Lower rates for as long a time as we have had them stop banks from fulfilling their role as purveyors of credit to the economy more than they stimulate the economy through increased credit demand. The UK still shows inversion at the short end up to two years, which most likely has to do with – you guessed it – the B-word.
Speaking of Brexit, missing the so-dramatized 31 October Brexit deadline may heap derision on Boris Johnson and have many in the business sector sighing with relief that they do not have to go through the inevitable need for change. But the extension also prolongs the relative uncertainty for UK Plc and means that the business investment stalemate that undermines activity levels extends for another three months. £-Sterling did not give up its October gains, meaning the exchange rate appeared to have had the extension already priced in. This suggests that capital markets anticipate that the country is gradually moving towards Johnson's version of Brexit, with the general election not expected to fundamentally change that path. This would remove one of the major upset potentials for investors between now and the end of the year, unless the election outcome produces such a messy version of a hung parliament that capital markets feel forced to abandon their currently more sanguine approach. Since even the most versed political commentators suggest that the election outcome is all but impossible to predict (despite the substantial lead for Johnson in the polls) it would seem prudent not to 'bet' against one or the other outcome – which is precisely our position in Tatton portfolios.
On the global politics front, the news flow from the US-China trade conflict is starting to feel more like a roller-coaster than 'Waiting for Godot'. The Trump administration seems to be in a state of schizophrenia, with representatives of the negotiation teams briefing an imminent resolution at the same time as bashing China relentlessly in public speeches. In addition to that, the impeachment noose is tightening around Trump's neck as Congress progresses the process with increasing momentum borne out of more and more damning evidence against the unorthodox president. Not surprisingly therefore, Chinese representatives publicly voiced doubts whether a trade deal was achievable with "this president". Just as with the UK, markets only took brief note before continuing trading on a more optimistic note – quite possibly anticipating that even if Trump's days are numbered, his successor would have every interest in progressing towards a resolution with the Chinese very swiftly – before the 2020 US presidential election takes hold.
In the real economy, the corporate results announcement season is progressing with earnings (profits) – as per the usual, historical observations – coming in better than expected at the start of the quarter. More importantly, US earnings growth has remained positive (just) and the outlook statements are more optimistic and positive than had been hoped for. European and Japanese companies are a touch less good, with earnings growth still lingering below the zero line. Of note however is that the much-shunned industrials are reporting better-than-expected results. Together with the macro economic data flow, this suggests that the manufacturing growth side of this latest mid-cycle slowdown may finally be troughing. In south east Asia we have even begun to see some improvements, while the US economy continues to slow – albeit from its previous position as the growth leader, thanks to Trump's 2017/2018 corporate tax cut.
To return to the calendar view of market action probabilities, we would not want to go as far as agreeing with those who cite historic precedent that, more often than not, a decent October heralds a strong finish to the year. However, we are pleased that we disregarded two pieces of conventional investor wisdom: 'sell in May and go away and don't return until St Leger Day' (second weekend in September), and 'avoid October when the medium-term outlook is clouded'.