Latest News from Tatton Investment Management: Central bank hawks determined to defang inflation
15 September 2023
The European Central Bank (ECB) raised rates yesterday, with the majority of its Governing Council members concerned that the inflation parasite may be alive for a while longer. Of course, parasites can continue to be robust while their host becomes pale and wan. We discuss some aspects of the run up to this decision in a separate article below.

Markets took the somewhat unexpected news in their stride, with only the yields on short-dated money market paper increasing. The dovish tone adopted by ECB President Christine Lagarde reinforced investor sentiment that this a period of rate stability would last for a few months before rates come down again after next spring. Indeed, euro-denominated bond yields fell with increased pessimism about the domestic economy.

We await the Bank of England's (BoE) rate decision next week, but the ECB's deliberations give us a clue to their thinking. Catherine Mann, one of the external members of its Monetary Policy Committee (MPC), has already signalled her vote for another rate rise. Other committee members seem more reluctant.

The Royal Institute of Chartered Surveyors (RICS) released its August survey, wherein estate agent sentiment has become notably darker following some mid-summer lightness. They see little house-selling activity and expect prices to go lower in the coming months. This echoed last week's Nationwide House Price Index for August, which showed a drop of 0.8% from July.

Often, a weaker housing market feeds into the wider economy and lowers inflationary pressures. We are not really seeing this at the moment. Transaction volumes have been low, and landlords are opting to pass on higher costs (interest rates and possibly energy and maintenance) to their tenants, rather than simply making greater margin.

So, despite continued sharp rent rises, the after-cost yields are not higher than the new interest costs. We've put two charts together from the RICS survey that show the stark difference between the two parts of the housing market.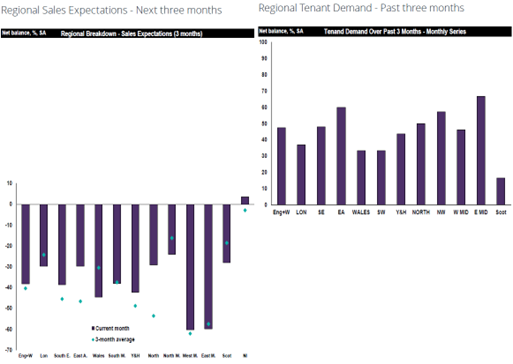 Housing markets are becoming a greater issue across the world but the UK's situation feels oddly similar to the recent problems in China. Xi Jinping chose to deal with the problem of affordability which has had a substantial impact on the domestic economy. Our government has to grapple with the impact on affordability of long term housing undersupply for both buyers and renters. Elevated tenant demand allows landlords to keep rents high or increase them – and that is occurring during this period of change.

Meanwhile, the average cost of a house is now about 7.5 times the average annual wage (our calculation from the Nationwide data and Office for National Statistics data), down from 8.5 one year ago. It still has a long way to go before we get close to the pre-2000 level of below 5 times. Either wages will have to keep rising at a reasonable clip for a long time (which comes with inflationary tendencies) or house prices have to fall further, or both.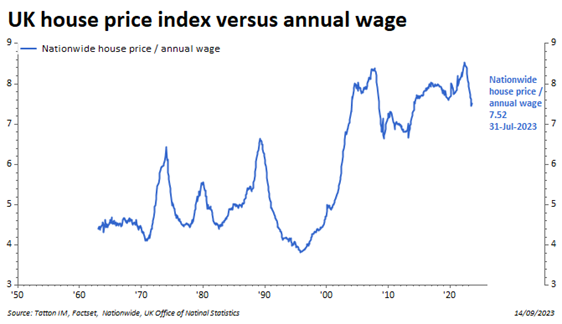 Across the pond, US retail sales and inflation showed more strength than expected. Generally US actual activity data has exceeded expectations for a few weeks as opposed to sentiment data which has been more mixed. And China's credit growth data (which we discuss in the second article below) has shown a glimmer of light, as did retail sales and industrial production, perhaps the sign of another economic bounce after the myriad of policy announcements.

As we head towards the end of the third quarter (how time flies when you're having fun), US earnings expectations for next year continue to push higher, which is leading to a relatively broad sense of optimism. Stocks with good earnings expectations momentum are leading the performers rather than 'thematic' stocks like those associated with artificial intelligence. In general, institutional investors feel a lot more comfortable when earnings are the thing that causes equity price rises.

Overall, it's noticeable across the board that volatility and associated risk has continued to edge lower, perhaps signalling a period of steady calm. The strength of the Arm Holdings NASDAQ debut (which climbed 25% after the IPO priced it at $51 per share) has helped as well. The positivity seems enough to offset another week of oil price rises.

Europe and the UK face some stiff headwinds compared to the Americas and Asia at the moment, and that is feeding through, particularly into the currencies. Both the GBP and the EUR have slid another notch against the USD and, reversing the trend of the previous weeks, are now weakening relative to RMB and stable against the JPY. Without the prospect of near-term fiscal or monetary policy action, this may continue for some time.